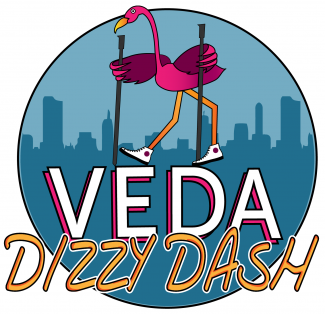 Every patient's journey is different. That's why VEDA encourages you to Walk Your Own Path during this year's Dizzy Dash.
What's your goal? Maybe making it around the block would be a big achievement for you, or walking a full mile. You decide how far to walk, who you will invite to join you, and where you hold your event. Remember, you're not alone – a whole community of vestibular patients from around the world will be walking with you!
And we'll be there to support you in accomplishing your goal. Visit the Dizzy Dash Facebook Group to share photos of what you are doing to get prepared for your event. And don't forget to take pictures (maybe a video) of your event to share!
Get your official 2017 Dizzy Dash shirts to wear during your event (maybe one for each member of your team). These are a limited edition shirt that will be available through the end of May. If you want your shirt in time for the Dizzy Dash, be sure to order it by May 1st.
Your fundraising efforts and registration fees will be supporting VEDA's new online support group teleconferences. We need your help to expand VEDA's support network so we can reach people who are lost and alone and need a compassionate ear.
Questions? Call (800) 837-8428 and ask for Matthew, or email him at [email protected].
Join us on May 20th and host your own Dizzy Dash with family and friends. Thank you!