Participant Page: Me and My Ferrari
Me and My Ferrari
My Story
Thanks for helping me and Mom, a.k.a. "that dizzy dame," raise awareness about vestibular (inner ear balance) disorders.
Many of you know that my mother, Eileene Haslam, suffers from Meniere's disease, which has taken her hearing and affected her balance.
Clutching walls just to move around the house, Mom was afraid to leave the house alone for fear of falling. However, the brain is a cruel mistress, and when Mom wasn't challenging it to keep her upright it would fall down on the job (pardon the pun), making her everyday balance worse. She needed to get out and exercise!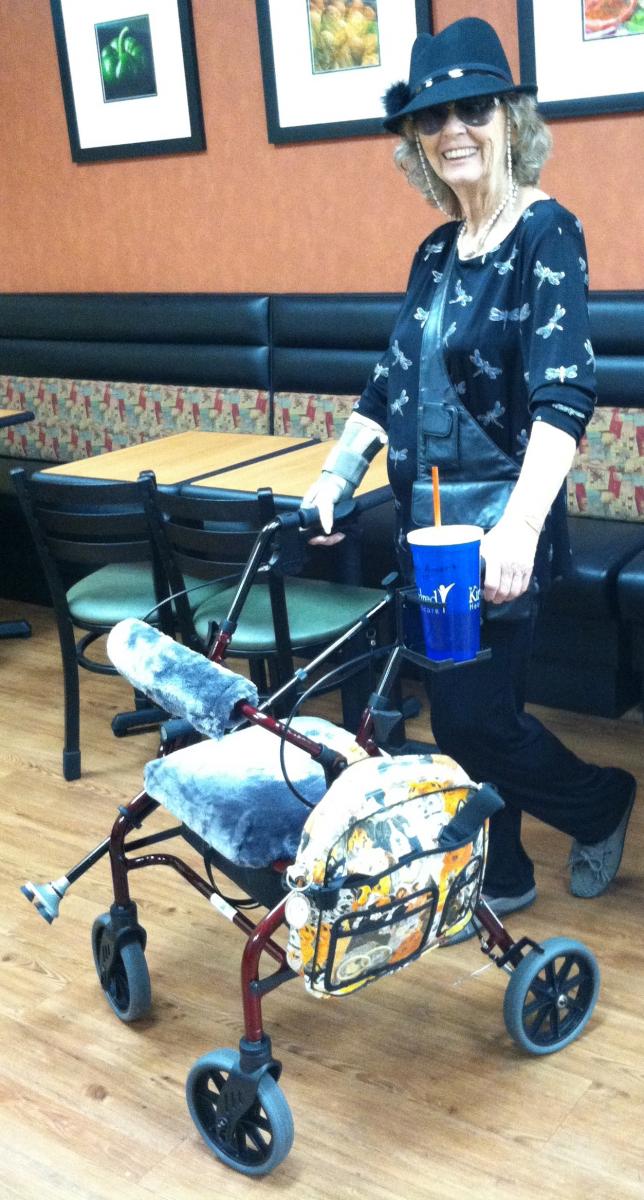 Ferrari to the rescue! Mom now "drives" a shiny, new "Ferrari" (walking assistance device), with which she does laps through her neighborhood cul de sacs. With her ever-changing array of hats and cheery smile, she is no doubt a neighborhood phenomenon.
Mom has struggled with the limitations of her vestibular disorder and the "new normal" she now has to live with. But because her condition is mostly invisible to others they don't understand how it impacts her.
There are millions of people in the U.S. and around the world who suffer from vestibular disorders silently and alone. That's why we're trying to raise awareness about these debilitating illnesses.
Visit vestibular.org to learn more about inner ear balance disorders, and please make a donation - every little bit makes a difference - to help VEDA advocate for people like Mom.
Thanks!
This Page is 21st out of the 62 fundraisers taking part in event.
Ellis Kern has donated $ 500.00
Karla Droste has donated $ 100.00
Sherron And Spencer has donated $ 100.00
Anonymous has donated $ 25.00
Judy McNamara Tripp has donated $ 100.00
Mom's "little Girl" has donated $ 100.00
Tony & David has donated $ 10.00