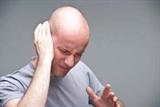 by Matthew Coleman
When Marc Fagelson, PhD, a professor of audiology at East Tennessee State University, noticed that some of his tinnitus patients rated themselves as more troubled by the condition than others, he completed an extensive chart review. These patients all had one thing in common: post-traumatic stress disorder (PTSD).  
"The first inkling I had that there might be some kind of relation came from clinical experience observing the patients I saw in the VA clinic," Dr. Fagelson said. "The ones who had PTSD almost invariably were more bothered by their tinnitus than the patients who didn't.
"Interactions between a person's psychological state and tinnitus are known to exist with respect to depression, anxiety, obsessive-compulsive disorder, and a variety of other conditions. What makes the connection between tinnitus and PTSD special is the presence of overlapping neurological associations.
"Many of the same neurological mechanisms that appear to be influenced by PTSD are also implicated in levels of tinnitus annoyance," Dr. Fagelson said. "Those neural mechanisms would include the limbic system and chronic autonomic nervous system hyperarousal. This strongly suggested that there was a potential for these two conditions to be mutually reinforcing.
"A tinnitus patient's case history often will provide hints of potential PTSD in undiagnosed patients.
"It's pretty typical to ask, on a number scale from 1-10, how bad is your tinnitus," Dr. Fagelson said. "How loud is it? How severe do you think it is? Then if you ask them the same question about their ability to tolerate everyday sounds, a lot of these patients will actually indicate that listening to a variety of everyday sounds is more disturbing than listening to their tinnitus.
"Data from Dr. Fagelson's research suggest that patients with PTSD and tinnitus rate the loudness of their tinnitus in a manner that is consistent with those who have tinnitus without PTSD. When tinnitus patients with PTSD are asked about tolerance of everyday sounds, they rate the severity of these sounds higher—7 or 8 out of 10—than tinnitus patients not suffering from a psychological condition or other comorbidity.
The audiologist must keep this sound sensitivity in mind when doing routine clinical tests in tinnitus patients who have post-traumatic stress disorder.
"You might not be able to do acoustic reflex tests because you might exacerbate the tinnitus," Dr. Fagelson said. "You might also make it so that the patient wants to get up and leave, or worse, lash out at you. I tend to think of testing these patients the same way I would test a child, where at any given moment you might have to stop the test because of discomfort on the part of the patient.
"The presence of PTSD and tinnitus poses a heavy burden for the patient, and the audiologist has an opportunity to help this unique population.
"These are people who have had some amazing experiences of their own," Dr. Fagelson said. "The idea is to make a person feel safe, and the patient has to understand that you believe they have tinnitus. They have to be made to feel that they are with professionals who are going to do whatever it takes to, if nothing else, explain why they feel the way they do.
"Dr. Fagelson is currently studying the use of hearing aids in tinnitus patients with post-traumatic stress disorder.
"Hearing aids help the patient monitor the environment better at the same time that they provide environmental sounds as masking signals for the tinnitus," Dr. Fagelson said. "I have found that a lot of patients with PTSD do surprisingly well with open-fit hearing aids.
Source: The Hearing Journal
url: http://journals.lww.com/thehearingjournal/Fulltext/2013/01001/PTSD_plus_Tinnitus_Make_Everyday_Noise.3.aspx
Accessed 1/10/2013