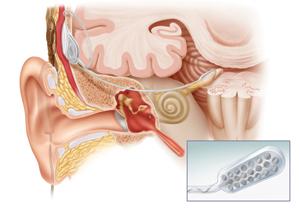 Adults with sensorineural hearing loss had significant improvement in communication-related outcomes and quality of life after cochlear implantation, a meta-analysis of published studies showed.
The results showed that 11 of 16 studies involving unilateral implantation led to significant (P<0.05 to P<0.001) improvement in speech-related outcomes compared with controls. None of the remaining five studies showed deterioration in scores associated with the outcomes.
Bilateral implantation led to significant improvement (P<0.05 to P<0.001) in at least one communication-related outcome in 12 of 15 studies included in the analysis.
Among studies that assessed quality of life, most exhibited at least a trend toward improvement after cochlear implantation, and the mean difference in scores from all studies averaged about 25%, as reported online in JAMA Otolaryngology Head and Neck Surgery.
"Unilateral cochlear implants provide improved hearing and significantly improved quality of life, and improvements in sound localization are noted for bilateral implantation," James M. Gaylor, BA, of Tufts University in Boston, and co-authors said in conclusion. "Future studies of longer duration, higher-quality reporting, and large databases or registries of patients with long-term follow-up data are needed to yield stronger evidence."
An estimated 36 million adults in the U.S. have some degree of hearing impairment, which usually is permanent and worsens with age. Cochlear implants replace the function of nonviable hair cells that normally generate electrical impulses in response to sound. As a result, the implants might offer an effective alternative to hearing aids.
In response to a request from the Centers for Medicare and Medicaid Services, investigators at Tufts performed a systematic review and meta-analysis of recent publications relevant to cochlear implants in adults.
Encompassing several medical literature databases, the review included studies published in peer-reviewed journals from Jan. 1, 2004 through May 31, 2012. Language of the publication was not an exclusion. The authors limited their search to studies that had at least 30 patients for evaluation of unilateral implantation or 10 patients who underwent bilateral implantation.
The final analysis included 42 studies, all of which were judged to have intermediate or a high risk of bias because of shortcomings such as lack of adjustment for confounders, poor-quality definitions and data reporting, incomplete data, and high dropout rates.
The authors found 16 studies of unilateral implantation involving 3,000 patients, 15 studies of bilateral implantation involving 461 patients, and 15 studies that assessed quality of life after cochlear implantation.
The studies of unilateral implantation assessed communication-related outcomes by means of two- or multi-syllable word tests representing six different validated test instruments. None of the studies showed a decrease in speech scores, and studies that compared performance before and after implantation demonstrated significant improvement in all but five of the 16 studies.
All but two studies of simultaneous bilateral implantation showed significant improvement in communication-related outcomes as compared with unilateral implantation (simulated by deactivating one of the implants). Five studies of sequential bilateral implantation showed significant net improvement after both had been implanted, or improvement after the first implantation but no further improvement after the second.
Two studies that evaluated both simultaneous and sequential bilateral implantation showed improvement in speech perception compared with unilateral activation of either ear in noisy conditions, but in quiet conditions, only the ear with better hearing demonstrated improved speech recognition.
The quality-of-life studies consisted of 13 investigations involving unilateral implantation and two studies of bilateral implantation.The studies of unilateral implantation employed 17 different test instruments. Regardless of the type of outcome assessed, comparison of before-and-after results showed significant improvement in quality of life after implantation.
Three studies assessed quality of life in bilateral implant recipients, as compared with patients who received unilateral implants or with deactivation of one implant. In general, the results showed significant improvement in quality of life outcome after implantation, but not across all outcomes assessed.
In their discussion of the quality of the studies reviewed, the authors acknowledged challenges to procurement of funding for the necessary, prospective, high-quality trials.
"We hope that the identification of this need will motivate funding sources to support future work," they concluded.
Source: MedPage Today
url: http://www.medpagetoday.com/Surgery/Otolaryngology/37482
Accesses 02/25/2013