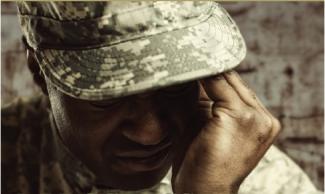 A Progressive Approach:
A sequential program emerges as one of the most promising, research-based methods to help veterans manage their tinnitus. 
In order to help patients, it is necessary to mitigate the functional effects of tinnitus, such as difficulties with sleep, concentration, and relaxation. 
People who experience tinnitus have most typically been exposed to loud noise that caused peripheral auditory damage, resulting in both tinnitus and hearing loss. Anything that can cause hearing loss can also cause tinnitus, including noise exposure, and the odds of having tinnitus increase as hearing loss increases. 
Military personnel are exposed to numerous hazards associated with tinnitus and hearing loss, including but not limited to high levels of noise. In spite of awareness about these potential exposures and increased efforts to use hearing protection in the field, a substantial number of military personnel still experience auditory damage.
These auditory problems can become significantly greater following military discharge due to aging and further insults to the auditory system. The Veterans Benefits Administration reports that in fiscal year 2011, tinnitus was the most prevalent service-connected disability, with 840,865 affected. Tinnitus was also the most prevalent service-connected condition for veterans who first began receiving benefits (87,261 veterans). Clearly, tinnitus is a high-priority healthcare issue for the military and the Department of Veterans Affairs (VA). 
Although many therapies for tinnitus are available, most are not supported by rigorous scientific research. A cure for tinnitus does not yet exist, and despite claims to the contrary, no method has been proven to provide long-term suppression of tinnitus loudness and intensity. As a result, in order to help patients, it is necessary to mitigate the functional effects of tinnitus, such as difficulties with sleep, concentration, and relaxation. 
Cognitive-behavioral therapy has the strongest research evidence to date. Sound (acoustic) therapy, combined with counseling, also has research support. Many methods of sound therapy have been developed, and numerous companies are promoting sound therapy products. It remains unknown, however, if there is any difference among the various sound therapy methods. 
Tinnitus research at the Portland VA Medical Center began in 1995. Two years later, the VA National Center for Rehabilitative Auditory Research was established at the same location, which included tinnitus research. Our tinnitus research has remained focused on developing effective, evidence-based methods of tinnitus management for veterans. Eighteen tinnitus projects have been funded, including four that are currently in progress. Other projects are in review and in preparation.
Progressive Tinnitus Management
Our research efforts in Portland have led to the development of Progressive Tinnitus Management (PTM), a detailed, comprehensive program endorsed by the VA central office for use at VA medical centers. PTM involves sequential levels of care. 
An initial referral is followed by a hearing evaluation and brief assessment of tinnitus impact. After possibly receiving a hearing aid at this time, the patient is assessed to determine if tinnitus-specific intervention is needed. 
If needed, the patient is advised to attend education workshops designed to provide patients with skills to self-manage their tinnitus. The skills are based on cognitive-behavioral therapy and sound therapy. 
If the patient still experiences problematic tinnitus following the workshops, an interdisciplinary (audiology and psychology) evaluation is completed. This in-depth assessment of the patient's tinnitus needs determines whether the patient requires individualized support. These are individual sessions with an audiologist and/or a psychologist to provide further education and support for tinnitus self-management. 
PTM was developed specifically for efficient implementation at VA medical centers, but there are still some barriers to providing comprehensive tinnitus services at all VA medical centers. For example, some centers have reported a lack of time and/or resources, including VA audiologists or mental health providers who can add PTM to their busy caseloads. Additionally, for PTM intervention to be effective, veterans must travel multiple times to a VA medical center, which some veterans are simply not able to do. 
Telemedicine as a Solution
To address these issues and as part of an overall effort to make tinnitus services available to all veterans, we conducted a pilot program to provide national in-home tinnitus education. As reported in the Journal of Rehabilitation Research and Development in 2012, it demonstrated the feasibility and efficacy of performing PTM intervention over the telephone, with educational materials provided by mail. A four-year program is now under way. The infrastructure for providing in-home tinnitus self-help education is fully developed, and participants are being recruited into the study. 
The Veterans Health Administration has promoted telemedicine for many years. It has developed numerous telemedicine programs to help patients with chronic conditions—such as heart disease, diabetes, chronic pain, and mental health issues—learn how to manage their own care. The workshops, evaluations, and individualized support efforts in PTM are ideally suited to telemedicine implementation.
Since telemedicine technology is advancing rapidly, it is now possible to develop PTM as a full telemedicine program using different delivery models. 
In addition, the infrastructure for conducting telemedicine is already in place at most VA medical centers. This includes the use of  Web cameras that are mounted on computers in the patient's home and the clinician's office, enabling face-to-face counseling sessions. 
Tinnitus is a problem that is recognized at all levels of the Veterans Health Administration. The VA Rehabilitation, Research, and Development Service has supported most of the tinnitus research that we have conducted, as well as studies conducted by other investigators. We will continue to develop and evaluate these methods to improve tinnitus services and to make them available to all veterans who need them. 
James A. Henry, Ph.D., is a research career scientist at the National Center for Rehabilitative Auditory Research at the Veterans Affairs Medical Center in Portland, Ore. He is also a research professor in the Department of Otolaryngology–Head and Neck Surgery at Oregon Health & Science University in Portland.
Source: The Hearing Health Foundation
url: http://www.hearinghealthfoundation.org/progressive_tinnitus_treatment
Accessed 4/14/2014