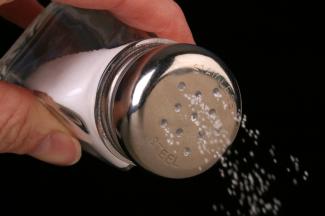 Change might be coming, but it is coming slowly in terms of reducing sodium levels in processed foods. A new study published today showed that while the sodium content of processed foods declined from 2005 to 2011, the overall reduction was just 3.5%[1]. Restaurants, on the other hand, fared even worse, with researchers reporting that sodium levels actually increased by 2.6% over the same six-year period.
"Changes in sodium levels by the food-processing and restaurant industries have been minimal," according to Dr Michael Jacobson (Center for Science in the Public Interest, Washington, DC) and colleagues in the May 14, 2013 issue of the Journal of the American Medical Association: Internal Medicine. "Indeed, although the sodium content of some processed foods in the sample declined by at least 30% between 2005 and 2011, a greater number of foods increased in sodium content by at least 30%."
The researchers say that stronger action, including phased-in, government-mandated limits on sodium levels, is needed to help lower sodium levels and reduce the prevalence of hypertension and cardiovascular disease in the general population.
In the US, the 2010 Dietary Guidelines for Americans recommends no more than 1500 mg/day of sodium, and many organizations, including the World Health Organization and the National Heart, Lung, and Blood Institute, have concluded that there is a strong and clear relationship between sodium intake and blood-pressure levels, as well as strong evidence linking excess sodium intake to cardiovascular disease.
Lots More Needs to Be Done
In their analysis, Jacobson et al assessed the sodium levels per 100 g in 402 processed-food products, including items such as bacon, barbecue sauce, bread, chicken, pizza, potato chips, salad dressing, soup, tuna, and deli-sliced turkey breast. They also assessed the sodium content of food, including cheeseburgers, chicken strips, French fries, hamburgers, and pizza, from 78 large-chain restaurants (Arby's, Burger King, Domino's Pizza, Hardee's KFC, McDonald's Panera Bread, and Subway, among others).
Of the 402 processed foods evaluated in 2005 and 2011, sodium levels decreased, on average, 3.5%. Overall, sodium levels were reduced in 168 products, 115 had no change, and 119 had increases in sodium. Of the 119 products that had increases in sodium levels, 90 had increases of more than 5% and 28 products had increases of 30% or more. Regarding the 78 restaurant foods surveyed, sodium levels increased 2.4%. Between 2005 and 2011, sodium levels decreased in 33 items, did not change in two, and increased in 43 products. Six menu items had an increase in sodium content of at least 30%.
The researchers note that several companies, including Campbell's Soup, ConAgra Foods, Domino's Pizza, General Mills, McDonald's, Subway, and Walmart, have made commitments to reduce sodium levels. For example, Walmart has asked its food suppliers to reduce sodium content of their products by 25% in 2015.
"However, even if fulfilled, these commitments would not nearly address the amount of necessary reduction," write Jacobson et al. "Most Americans need to consume far less salt and other sodium-containing ingredients to achieve recommended sodium limits. That will be challenging, considering that decreasing the average daily intake from 3800 mg to 1500 mg would require companies to make major reductions in the sodium content of their products over several years (>70%) and for consumers to eat less cheese, bread, pizza, processed meats, and other major sources of sodium."
Restaurant Meals With 1100 Calories
In a second paper, Canadian researchers, including senior author Dr Mary L'Abbe (University of Toronto, ON), found that breakfast, lunch, and dinner meals from restaurants that provide table service contained more than half of the daily recommend calorie content and exceeded the daily recommended amount of sodium[2]. In addition, these restaurant meals contained nearly 90% of the daily recommended intake for fat and 60% of the daily value for cholesterol.
The survey included 19 chain sit-down restaurants that had at least 10 locations. In total, the researchers analyzed 3507 variations of 685 meals, as well as 156 deserts. On average, the breakfast, lunch, and dinner meals contained 1128 calories, a number that is 56% of the average daily 2000-calorie recommendation. The average sodium level of each meal was 2269 mg, or 151% of the amount it is recommended adults consume in a single day. The meals contained an average of 58 g of fat, 16 g of saturated fat, and 0.6 g of trans fat. Dessert added another 549 calories, 27 g of fat, 13 g of saturated fat, and 46 g of sugar.
Regarding the "healthy" option identified on some menus, these meals contained 474 calories, 13 g of fat, 3 g of saturated fat, and 752 mg of sodium.
Source: Medscape Today
url: http://www.medscape.com/viewarticle/804095?nlid=31284_1049&src=wnl_edit_dail
Accessed 05/14/2013