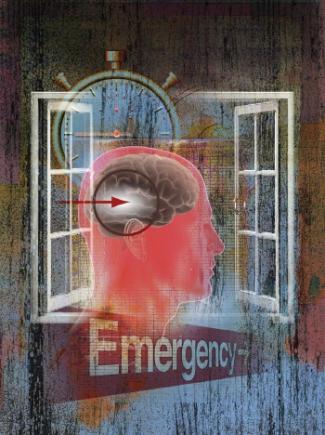 The rate of trips to US emergency departments (EDs) resulting from traumatic brain injury (TBI) rose almost 30% between 2006 and 2010, according to a research letter published online May 13 in JAMA.
Jennifer R. Marin, MD, from the Department of Pediatrics, University of Pittsburgh School of Medicine, Pennsylvania, and colleagues conducted a population-based epidemiological study of TBI visits to US EDs from 2006 through 2010. They analyzed data from the Nationwide Emergency Department Sample database, which collects data on 25 to 50 million ED visits from more than 950 hospitals yearly and represents 20% of all US EDs.
The researchers found that the rate of TBI visits per 100,000 person-years increased 29.1% (95% confidence [CI], 18.9% - 39.2%), going from 637 (95% CI, 582 - 692) in 2006 to 822 (95% CI, 758 - 887) in 2010. By comparison, the rate of total ED visits for the period rose 3.6% (95% CI, −0.7% to 8.0%), going from 40,228 (95% CI, 38,705 - 41,752) visits per 100,000 person-years in 2006 to 41 691 (95% CI, 39, 948 - 43,433) visits in 2010.
Children younger than 3 years and adults older than 60 years accounted for most TBI ED visits. The researchers suggest this may be because "these age groups do not benefit as much from public health interventions, such as concussion and helmet laws and safer sports' practices."
The total number of ED visits coded as TBI in the Nationwide Emergency Department Sample database came to more than 2.5 million in 2010.
Clinicians coded most TBI visits as concussion or unspecified head injury, and 40% (95% CI, 39.6% - 41.1%) of the visits involved at least 1 other injury such as open wounds, sprains, and fractures.
Most visits were to regular hospital EDs and not trauma centers, and although almost a third of the visits were by children, very few visits were to pediatric EDs.
The researchers write that the increase in TBI rates is possibly a result of increased TBI awareness, diagnoses, or both. Public campaigns and legislation during the past decade have been aimed at increasing awareness.
Limitations of the study include a lack of data from federal hospitals and incidents involving patients who died before reaching an ED, as well as possible miscoding of diagnoses.
"Nonetheless, our study suggests increasing trends in ED-diagnosed rates of TBI," the researchers conclude.
Source: Medscape
url: http://www.medscape.com/viewarticle/825201?nlid=57083_2703&src=wnl_edit_dail
Accessed 5/16/2014