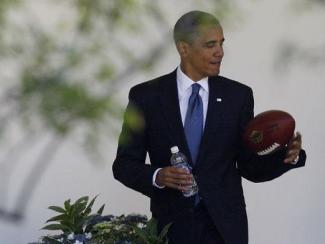 By Darlene Superville
WASHINGTON (AP) — Concerned that too little is known about the effects of head injuries in young athletes, President Barack Obama is bringing representatives of professional sports leagues, coaches, parents, youth sports players, researchers and others to the White House to help educate the public about youth sports concussions.
Tackling the issue at a White House summit Thursday, Obama also will highlight pledges of money and other support from the NFL, the National Institutes of Health, the Pop Warner Little Scholars and others to do the research, promote safety and speed development of materials designed to provide better protection.
Obama comes to the issue through his well-documented love of sports, and as the father of two daughters active in sports. The president thinks sports are also a good way to keep kids healthy and out of trouble, but he raised some eyebrows last year by saying he would "have to think long and hard" before letting a son, if he had one, play football because of the risk of head injuries. Read more...
Source: Pulse, AP
url: http://www.pulse.me/ap/b7032660a80e421c8d3816a6437e58d9?utm_medium=referral&utm_source=pulsenews
Accessed 5/29/2014