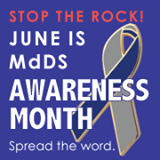 Celeste Queen and Sheryl Wilkinson belong to an exclusive club.
There is no secret handshake or initiation fees. They certainly did not sign up to join. There are no dues, unless you count suffering.
They even talk about getting T-shirts that say: "WE ROCK!" Below, in parentheses, they would read: "(But We Don't Want To)."
The two Macon women have Mal de Debarquement Syndrome (MdDS). Most folks will have to Google that and have no idea June is MdDS Awareness Month.
Mal de Debarquement is a French word for "disembarkation sickness." For Sheryl and Celeste, it can be loosely translated to "Please Get Me Off This Boat!"
That is what the world is like for them, forever teetering. They are out on a raft, bobbing like a cork in the water, a buoy in the bay.
"It is like trying to walk on a trampoline or a mattress," said Celeste. "It is not life threatening, but it is life altering."
Think vertigo without the spinning, sea legs without the sea. Sheryl uses the term "neurological imbalance" instead of vertigo when describing her affliction of perceived motion. She phrases it that way so people won't lean over and whisper, "Bless your heart. I've had vertigo, too. I know exactly what you're going through."
They have no idea what she is going through.
MdDS is a rare disorder. Limited medical research has been conducted. Few doctors have ever treated it, and some have never heard of it.
It is often triggered by traveling by boat, train, airplane or other "sustained motion" activities. A woman with MdDS was recently profiled on "The Doctors," a syndicated TV talk show. ("The Doctors" can be seen locally weekdays at 5 p.m. on WMGT, Channel 41, and is television's first third-generation talk show. It is a spin-off of "Dr. Phil," which was a spin-off of "The Oprah Winfrey Show.")
Celeste began having symptoms while on a cruise to the Caribbean with her husband, Rodney, in December 2003. Rodney is the senior pastor at Central Fellowship Baptist Church. The cruise was a gift from the congregation to celebrate his 12th anniversary with the church.
Through the process of elimination, she was diagnosed when they returned. She feared she might have had a stroke or even a brain tumor. She had an MRI. She spent three months learning how to walk again. Periods of remission have been followed by relapses. The most recent setback was during the Cherry Blossom Festival in March.
Celeste has had to learn to adjust and adapt. She sometimes staggers as if she were experiencing an earthquake beneath her feet or sleeping on a giant water bed.
"You never get used to walking into a restaurant holding on to your husband and looking like you've had too much to drink,'' she said. "And you know they see Rodney and think, 'Poor man! And he's a preacher!' ''
It's even true at church, where Celeste has become a "back row Baptist" out of necessity, not choice. "I would love to sit closer, but I feel like I'm swaying," she said. "I don't want to be a distraction."
Sheryl's MdDS was touched off by an 18-hour flight to New Zealand with her husband, Ian, in December 2010. Ian is a native of New Zealand, and they visited for a month. They also made several short plane trips around the island and boat excursions in Milford Sound.
At first, she dismissed it as motion sickness.
"I was always the one who had to ride in the front seat. And I've never been a good boat person," she said. "When we got back, I called my internist. I was really tired and felt like I still had sea legs. She told me to keep taking my Dramamine, so I did."
Four months later, she had a panic attack. Her body suddenly lurched forward. Her equilibrium felt as if it was trapped inside a pinball machine. A neurologist told her it was the first MdDS case he had seen in 20 years. She got a second opinion at Emory. It took four months of bed rest before she could resume teaching piano lessons.
Celeste and Sheryl have known each other for years, but they only recently reconnected. They were surprised to find each other on an MdDS support group page on Facebook.
Celeste has had the condition longer, with more peaks and valleys. Sheryl's tolerance level is more sustained, with fewer highs and lows. Both women said various medications have helped curb the rocking sensation, which often is accompanied by difficulty concentrating ("brain fog") and tinnitus or "ringing" in the ears. (Celeste swears she hears crickets chirping all the time.)
They are not looking for sympathy. They simply seek to raise awareness. There might be somebody out there with many of the symptoms but none of the solutions.
For Celeste, it started on a boat.
"And I've never gotten off," she said.
Contact Gris at 744-4275 or [email protected]
Source: The Telegraph, Macon, GA
url: http://www.macon.com/2014/06/17/3154661/when-you-cant-get-off-the-boat.html?sp=%2F99%2F148%2F
Accessed 6/18/2014