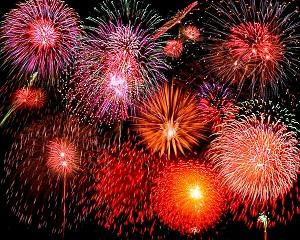 By Tara Guastella, Hearing Loss Resources
The Fourth of July is a great time for barbecues, trips to the beach, and spending time with friends and family. But fireworks and firecrackers, ubiquitous to many Independence Day celebrations, not only are a potential fire hazard, they also can do permanent damage to one's ears.
These beautiful spectacles measure between 140 and 165 decibels. This means that even one minute of exposure to them can cause immediate, permanent hearing loss.  
When exposed to sounds that are too loud or loud sounds that last a long time, such as a fireworks display, delicate cells in our inner ear can be damaged, causing noise-induced hearing loss (NIHL). These sensory hair cells in the inner ear convert sound energy into electrical signals that travel to the brain. Once damaged, our hair cells cannot grow back.
While you're enjoying summertime get-togethers, remember to pack ear protection, such as earplugs or earmuffs, and don't forget a pair for the kids! Also remember to Walk, Block, and Turn:
Walk away from loud sounds.
Block loud sounds with ear protection.
Turn the volume down (when you can control it).
Learn more about how loud is too loud today.
We wish you and your family a happy, healthy, and safe Fourth of July holiday!
Stay tuned for more about NIHL—its symptoms, prevention, treatment, and related conditions such as tinnitus—in the upcoming Summer issue of Hearing Health magazine. Get a free subscription by signing up here. We also wish to salute and thank our military service members, who are disproportionately affected by hearing loss and tinnitus as a result of their service, on this American holiday.
Source: Hearing Health Foundation
url: http://www.hearinghealthfoundation.org/blog?blogid=86
Accessed 7/3/2014