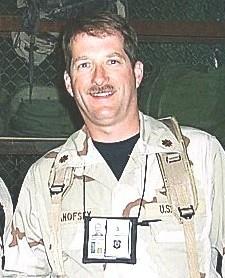 by Patricia Kime
The Food and Drug Administration announced Monday it is requiring the antimalarial drug mefloquine, once marketed as Lariam in the U.S., to carry the agency's strongest warning on the drug's potential neurological and psychiatric side effects.
he so-called "black box" warning is designed to inform patients of potentially dangerous and permanent side effects.
After an extensive review, the FDA found that neurologic side effects such as dizziness, loss of balance or tinnitus can "persist or become permanent" as a result of taking the medication
"Neurologic side effects can occur at any time during drug use, and can last for months to years after the drug is stopped or can be permanent," the announcement noted.
Those taking mefloquine also may experience psychiatric side effects such as anxiety, depression, hallucinations or paranoia, according to the new FDA warning.
If a patient develops either neurological or psychiatric symptoms, they should stop taking the drug and speak with their physician, the FDA recommends.
Mefloquine has been controversial since its commercial introduction in 1989. The drug is known to cause hallucinations, psychosis and delirium in a small percentage of users.
In 2002, questions arose as to whether it played a role in a string of violent deaths and suicides among several soldiers and spouses at Fort Bragg, N.C.
In 2004, a cluster of 11 U.S. troops developed symptoms of dizziness, uncontrollable eye movements and vertigo that made it difficult for them to walk steadily. The only common thread among the nine men and two women that federal health investigators could find was mefloquine, prescribed to the troops to prevent malaria.
In 2012, an Army preventive medicine expert published a case study of a Navy sailor who developed brain damage as a result of taking the drug.
The drug's side effects also have been discussed in connection to the behavior of Army Staff Sgt. Robert Bales, who pleaded guilty in June to the murder of 16 Afghan civilians in March 2012.
In April 2012, the FDA received notification from the maker of Lariam, the brand name of mefloquine no longer sold in the U.S., that a patient taking the medication "developed homicidal behavior and led to homicide killing 17 [sic] Afghans."
The report, obtained July 5 by Military Times through a Freedom of Information Act request, stated:
"It was reported that this patient was administered mefloquine in direct contradiction to U.S. military rules that mefloquine should not be given to soldiers who had suffered traumatic brain injury due to its propensity to cross blood-brain barriers inciting psychotic, homicidal or suicidal behavior."
An FDA adverse event report does not mean the medication caused any health problems; it indicates only that patients developed symptoms while using the product.
But the black box warning is a clear indication from the FDA that more research is needed to understand the drug's toxicity, said Dr. Remington Nevin, a former Army tropical disease specialist and leading researcher on mefloquine neurotoxicity.
"These warnings make it clear that the drug can permanently injure the brain, and that mefloquine brain injury needs to be considered alongside TBI and PTSD as a signature injury of deployment. The military has known of mefloquine's neurotoxicity for over a decade, but denied that troops could suffer from it long-term," Nevin said.
From 2010 to 2011, the military health system wrote 14,420 prescriptions for mefloquine, down from 55,766 from 2007 to 2009.
The drug remains popular for distribution among special operations forces because it is taken weekly rather than daily.
In 2009, the assistant secretary of defense for health affairs issued a policy listing mefloquine as a last-choice malaria preventive in areas where strains are resistant to another drub, chloroquine, behind doxycline and atovaquone-proguanil.
The memo stated that in cases where a service member had a history of neurological or mental health disorder, mefloquine should be used with caution only in areas where the malaria strain is resistant to other medications.
In January 2012, just months before the Kandahar massacre, Dr. Jonathan Woodson, assistant secretary of defense for health affairs, directed the Army, Navy and Air Force and the commander of the Joint Task Force National Capital Region Medical Command to provide his office with all data and policies related to mefloquine.
FDA officials said they will continue to evaluate the drug's safety "communicate with the public again if additional information becomes available."
Source: Army Times
url: http://www.armytimes.com/article/20130729/BENEFITS06/307290029/FDA-puts-black-box-warning-mefloquine
Accessed 07/29/2013