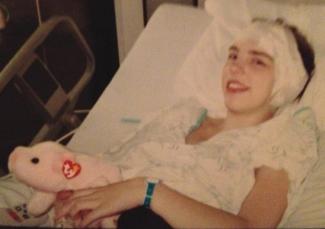 Melissa was diagnosed with a vestibular disorder when she was only 13 years old. As she gets ready to celebrate her 30th birthday, Melissa wants to give back to the organization that helped her conquer her fears so she could lead an active, independent, and relatively "normal" life. VeDA is so happy to have Melissa as an ambassador to help raise awareness for vestibular disorders.
Melissa writes:
As part of my 30th birthday celebration I will be competing in the Aluminum Man Triathlon on September 7, 2013 in the Dalles, Oregon to benefit VeDA's Balance Awareness Week. This will be my first triathlon. It will not be an easy feat, as it is quite the physical and vestibular challenge. I will be swimming 1 kilometer, biking 50 kilometers, and finally running 10 kilometers.
Just as I am dedicated to my race training, I am dedicated to raising funds and promoting awareness about vestibular disorders. I am asking you to please join me in defeating dizziness, show your support, and make a contribution to VeDA today! This is my story and why this is so near and dear to my heart… 
When I was 13, my oval and round windows of the inner ear of both ears ruptured on a commercial airline flight. I was later diagnosed with perilymph fistulas and endolymphatic hydrops. This caused constant dizziness, nausea, visual disturbances, tinnitus, pain, headaches, and a sense of pressure in my ears. As a 13 year-old, the illness was devastating. I could no longer be physically active or dance ballet. I couldn't focus on my school work so I had to drop out of school. I felt like I was falling off the piano bench during piano lessons and struggled to practice. I lost most of my friends because they didn't understand that I couldn't be the same person I was before the incident.
Obtaining a diagnosis and treatment for a vestibular disorder was very difficult. There was a general lack of education among physicians and medical staff about the vestibular system and the effects on an individual's ability to function. Some doctors have even laughed at me and told me that my diagnosis was "controversial." Fortunately, with the help of VeDA, my family and I found a doctor who could help me. Thanks to the work of the late Dr. F. Owen Black, I recovered to an extent where I could adapt and regain my life.
It took multiple surgeries, countless rounds of vestibular rehab, nausea medications, and watching my diet carefully to overcome the dizziness. Yes, I have graduated with a master's degree, worked full time, and live independently, but I am still dizzy 24/7. It ebbs and flows like the tides--most days it is tolerable and I barely even notice it. Sometimes it rages like the high seas. Much research, education, and advocacy is needed still for people with vestibular disorders. I still encounter physicians who tell me that what I have "doesn't exist" despite the countless research articles that state otherwise. VeDA is working to change this perception and support patients, professionals, and researchers in finding a cure.
Thank you so much for supporting me in my campaign to defeat dizziness!
Melissa Bosserman
TO SUPPORT MELISSA, PLEASE VISIT: VESTIBULAR.ORG/BAW/MELISSA
Melissa's goal is to raise $2,500. You can give her the ultimate birthday gift by contributing to her campaign.