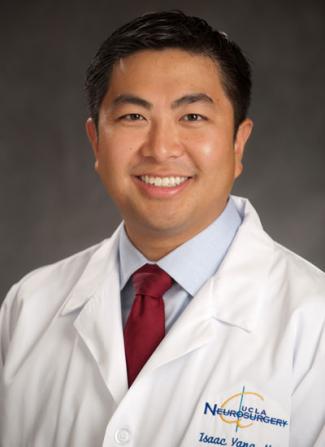 Join UCLA neurosurgeon, Isaac Yang, MD, Thursday, September 4, 2014, 11:30 AM PDT, as he discusses the common causes and leading treatments for superior semicircular cancel dehiscence, a condition triggering vertigo, hearing loss, disequilibrium and other balance and auditory symptoms. In addition, he will discuss new data from UCLA showing promising outcomes and recovery times for patients with surgery for this disorder.
About Issac Yang, MD
Dr. Isaac Yang is an assistant professor in the UCLA Department of Neurosurgery. He specializes in adult brain and spinal cord tumors with an emphasis on meningiomas. 
As a principal investigator at the UCLA Brain Tumor Program and director of the UCLA Meningioma Research Laboratory, he is leading research studies and clinical trials to optimize brain tumor clinical outcomes, novel nanoparticles in immunotherapy treatment of brain tumors, and experimental glioblastoma therapies such as brain tumor vaccines. 
He is widely sought after by the media, colleagues and patients to discuss new treatments and advancements for brain tumors. He has appeared as an expert on CBS The Doctors, The Dr. Drew Show and other national news outlets. Dr. Yang has received a number of national awards and grants to honor his research work in brain tumors and excellence in treating and caring for patients.
Source: UCLA Health
url: http://events.r20.constantcontact.com/register/event?oeidk=a07e9ntwsja51301fcd&llr=wa9tsqcab
Accessed 8/27/2014