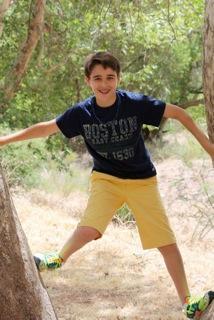 Misdiagnosed at age 11, now just 12, Michael is a voice for those suffering from balance and dizziness disorders, and an advocate for finding the right help.
When Michael began to walk only on the edges of his feet after suffering from asthma, a cold, and then pneumonia in November 2011, his pediatrician sent him to an ear, nose and throat doctor. The doctors thought it was just a virus. By December 12, 2011 he was unable to attend school because his teachers were concerned he couldn't safely navigate the stairs to his classroom. By New Year's Eve Michael's condition was so severe he couldn't even walk across a room without help. After more tests – including a spinal tap – and a second medical opinion, Michael was told he had "conversion disorder" - a psychiatric disorder.
In reality, he was suffering from vertigo associated with an inflammation of the inner ear called vestibular neuritis, and, after six months of vestibular rehabilitation, he was clear of his symptoms. When another child at his school came down with a virus and concerns were raised about an outbreak that may cause the effects Michael had suffered, he and his family took time to speak to the parents at Michael's school to educate them.Today, he and his family are committed to educating and advocating for those who have vestibular disorders.
Marianne, Michael's mother, says, "The Atlanta community is lucky to have one of the best pediatric vestibular therapists in the country, Dr. Gaye Cronin, who practices at the Atlanta Balance Center. Thanks to Gaye and Dr. Ronald Steenerson, Michael is a lively young boy today."
VeDA can't thank Michael and his family enough for their willingness to share his story and bring hope to people that find themselves searching for answers through a sea of misunderstanding about dizziness and other symptoms associated with vestibular disorders.
To support Michael and his family, please visit: https://vestibular.org/themcdevittfamily