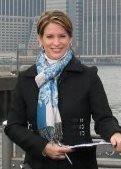 Colleen McEdwards was diagnosed with a serious vestibular condition after years of being subjected to the bright lights, loud noises, and intense stress of her job as a CNN anchor.
Off balance, spinning, and losing her hearing, Colleen retired from CNN and now teaches journalism at Georgia State University. Colleen wants to raise awareness about balance disorders, so today, she shares her story in honor of Balance Awareness Week.
Click here to read the full CNN story about Colleen McEdwards and her journey to Defeat Dizziness.