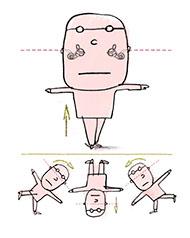 By NATALIE ANGIER, New York Times
Published: October 27, 2008
If you want to glimpse the handiwork of one of your body's unsung sensory heroes, try this little experiment. Hold your index finger a few inches in front of your face and sweep it back and forth at a rate of maybe once or twice a second. What do you see? A blurry finger. Now hold your finger steady and instead shake your head back and forth at the same half-second pace. This time, no blur, no Marcel Duchamp's "Nude Descending a Staircase" effect. The finger stays in focus even as your head vigorously pantomimes its denial.
And it's a good thing, too. If the brain couldn't distinguish between movements of the viewer and movements of the view, if every time you turned around or walked across the room the scenery appeared to smear or the walls to lurch your way, you soon might cease to move at all, uncertain of external threats, unaided by any internal compass marked You.
Essential to a fully embodied sense of self is the vestibular system, a paired set of tiny sensory organs tucked deep into the temporal bone on either side of the head, right near the cochlea of the inner ear. The vestibular system isn't a high-profile, elitist sense like the famed five of vision, hearing, touch, taste and smell. It's more of a Joe Sixth-Sense, laboring in anonymity and frequently misunderstood. Even its name is a blooper encapsulated, the result of early anatomists thinking the organ merely served as an entrance, or vestibule, to the inner ear.
Despite its humble reputation, the vestibular system has lately won fans among neuroscientists, who marvel at its sophistication and sensitivity, and how it tells us where we are and what we're doing and why we should never again embarrass ourselves by going roller skating. They praise the machine-tool precision of its parts, the way the vestibular system discovered the laws of Newtonian mechanics some 400 million years before Newton and then put those principles to use to provision the head with little organic gyroscopes and linear accelerometers.
As evidence of the organ's rising cachet, the first edition of the highly regarded college textbook, "Sensation and Perception" (Sinauer, 2005), barely mentioned the vestibular system; but in the new edition appearing this month, a standalone chapter on the subject closes the book. "I don't want to sound ungrateful," said Daniel Merfeld, director of the vestibular physiology lab at Massachusetts Eye and Ear Infirmary and associate professor at Harvard Medical School, who wrote the chapter. "I'm just glad to be included now."
Doctors are also learning to better identify the symptoms associated with a dysfunctional vestibular system, and to distinguish among a variety of distinct disorders that were previously lumped together as Meniere's disease. One such syndrome is mal de debarquement, in which people who have spent time aboard a ship, plane or other moving vehicle still feel that they are rocking, dipping and swaying long after they've returned to solid ground.
The syndrome has become more prominent given the popularity of cruiseliner vacations, and though most episodes are mild and short-lived, severe cases can last months to years and be accompanied by what sufferers call a brain fog, a sense of cognitive slowing so debilitating that they may end up with careers, relationships, lives in ruin.
It remains baffling and difficult to treat, said Dr. Yoon-Hee Cha, a neurologist at the University of California, Los Angeles, "but I'd like to emphasize that it is a real disorder, and that physicians shouldn't discount what their patients may be telling them."
The vestibular system may be ancient and found in all vertebrates, but it is not primitive and has arguably assumed even greater importance in us than it ever did in our fish forebears. Its primary mission is to keep track of where the head is, and from that knowledge much wisdom and strategic planning may follow.
Take our proud bipedalism. Whenever we stand up and arrange our calves, thighs, torso and head into a stable, vertical configuration, Dr. Merfeld said, we are unconsciously juggling six inverted pendulums, six mechanically independent units with masses above the pivot point — a feat that amounts to balancing six pencils on your palm simultaneously. Bipedalism is largely a top-down operation overseen by the vestibular system, which gauges the head position relative to the floor and signals the brain to adjust the downstream pivot points accordingly. Should the vestibular system be impaired by, for example, too much alcohol, the imbiber will begin to wobble around all those pivot points, just like a toddler learning to walk.
Joe Sixth-Sense is also something of a Joe the Plumber, a pipeline between sensory systems. When you shake your head as you did in the finger-watching experiment, or as you chronically, unconsciously twitch and wiggle it throughout the day, the vestibular system cues the eyeballs to move in compensation, and it reassures the brain that, not to worry, the head is being a jerk as always, disregard any flutters in the incoming visual stream and interpret the vista as though the head were trapped in a vise.
The vestibular hardware is small and transparent and can be difficult to find. "It's basically a cavity in the skull, filled with fluid and lined with membranes," Dr. Merfeld said. "It's almost the absence of something rather than the presence."
Yet the arrangement of membranes and fluids is highly structured, forming five distinct sense organs in each of the two pea-size bony pits. Three of the organs are designed to detect twisting movements of the head, by sensing the discrepancy between the angular momentum of the membranes, which are attached to the bone, and that of the free-floating fluid, which lags slightly behind. The other two organs have tiny stones of calcium carbonate, which rise and fall like flakes in a snowglobe and so detect the effects of gravity and of linear head motions, if you're walking forward, for example, or up stairs.
All five sentinels pass their findings along to the brain the same way, by bending whiskerlike projections on nearby hair cells, which translate the mechanical signals into the electrical pulses that neurons can decipher and then decide what to do.
Maybe it's time to give your vestibular system a rest. Why not break out the six-pack? Joe, this one's for you.
Source: The New York Times
url: http://www.nytimes.com/2008/10/28/science/28angi.html?_r=1&
Accessed 9/29/2014