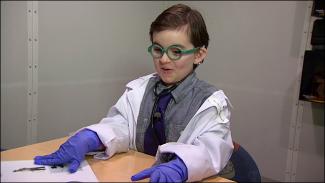 SEATTLE -- A Seattle surgeon made such a huge impact on a second grader that the little boy decided to honor the doctor for Halloween.
Of all the costumes 7-year-old Landon Browne could have picked for Halloween, he didn't go for Spiderman, a fireman, a ninja or a warrior. Instead, he showed up to Seattle Children's Hospital on Wednesday dressed as Dr. Jay Rubinstein.
Browne hears pretty well for a deaf child. And what he lacks in hearing, the precocious and gifted child makes up for in smarts.
"I'm pretty smart," he said. "I don't mean to be not humble."
On Wednesday, Browne showed up at the hospital wearing a lab coat, just like the one Rubinstein wore when he performed the two Cochlear implant operations on Browne.
"Well, he worked on both my ears and he's a great surgeon," Browne said.
Rubinstein performed the first surgery when Browne was just nine months old. Browne became an important part of the doctor's research, and last summer he added a Cochlear implant to the child's left ear.
"I'm pretty grateful to him for all the efforts he's made on our behalf, and for him to do this makes it clear that he feels the same way," Rubinstein said.
Rubinstein is now helping develop advances in the way implant patients hear music. They often struggle following melodies and deciphering changes in pitch.
"I do like beat boxing," Browne said.
Browne's dad is a musician and his mom is hopeful about what her son will one day hear thanks to Dr. Rubinstein.
"I completely got goosebumps, because who would want their child to not experience the beauty of music," said Browne's mom, Alysia Browne.
Browne said if he didn't go with the Dr. Rubinstein costume he probably would have dressed up like a vampire or a prince.
Source: KOMO News
url: http://www.komonews.com/news/local/Grateful-boy-dresses-up-as-his-doctor-for-Halloween-228099081.html?tab=video&c=y
Accessed 10/24/2013