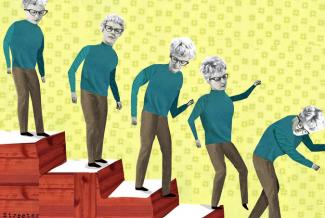 By Katie Hafner
After a fall, life is upended in an instant — a sudden loss of independence, an awkward reliance on family and friends, and a new level of fear for those who fall, and their contemporaries.
SAN FRANCISCO — Joan Rees, 79, had hardly been ill a day in her life. Her biggest problem was arthritis, mostly in her knees, but at home in San Francisco she walked every day and she traveled frequently.
At dusk last November in Istanbul, on the final day of a cruise, she missed a step and lost her footing. When she couldn't stand up, she knew something was terribly wrong.
In that trivial act of misplacing her foot and falling, she had fractured her pelvis in multiple places. "It was a complete shock," she said, "that I did something so destructive to my body."
Her life would change with cruel, unanticipated swiftness. 
The number of older Americans who fall and suffer serious injuries has soared. More than 2.4 million over the age of 65 were treated in emergency departments for injuries from falls in 2012 alone, and in the decade ending in 2012, 201,000 Americans over 65 died after falls.
Geriatricians generally agree that some older people possess an exaggerated sense of what they can still do, even as hazards lie in wait: staircases, throw rugs, slick bathtubs, concrete bumpers in parking lots, tree roots, their own pets. And medications like hypertension drugs and antidepressants, which can cause dizziness, are increasingly the cause of falls.
Source: The New York Times
url: http://www.nytimes.com/2014/11/04/science/a-tiny-stumble-a-life-upended.html?emc=eta1&_r=0
Accessed 11/4/2014