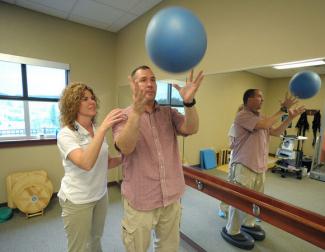 Forget walking on a balance beam. All Daryl Kennedy wanted was to be able to carry his newborn daughter.
The Upper Nazareth Township resident returned from a seven-month tour of duty in Iraq in 2009 with an injury that left him struggling to stay upright.
It's easy to take balance for granted.
he ability to roll out of bed, walk a straight line and catch yourself from falling are tied to a proper functioning vestibular system. And when that's out of whack, life gets dangerous.
The vestibular system is the coordination of inner ear and brain that controls balance, according to Vestibular Disorders Association's website, vestibular.org.
'A perfect storm'
On July 19, 2009, the Infantry staff sergeant for the U.S. Army led his team into a house to investigate reports of a suspicious object. A 10-gallon gas can on the perimeter exploded.
"It tore the house in half, (and) buried me in the rubble," Kennedy says. "My guys dug me out and got me back to our base."
Kennedy, who served 16 years with the Army, had a traumatic brain injury, concussion and suffered multiple back and shoulder injuries and minor nerve damage. The pressure from the explosion blew out both eardrums. "It was kind of like a perfect storm," says the now medically retired veteran.
He was flown to an Iraq hospital where he stayed for a week, followed by a two-week stint at a German facility and then a three-month stay at Walter Reed National Military Medical Center in Bethesda, Md., before heading home.
Even after surgeries and physical therapy sessions, Kennedy was plagued with dizziness and nausea whenever he moved.
"It was … pretty much horrible. I would have massive amounts of vertigo," Kennedy says. "I was constantly off-balance … swaying when I was trying to stand still."
Anything that moved near his peripheral vision would cause his whole world to spin. He couldn't drive or move his head without getting nauseous.
When his daughter, Skylar, was born two years after he returned home, he could barely hold her. It was six to eight months after she was born that he felt comfortable and stable enough to carry her.
A terrible score
Maureen Gordon says balance affects every single thing you do.
Whether it's getting out of bed, sitting up, reaching, lifting or even checking traffic to cross the street, it all comes down to a person's balance.
Gordon is the facility director of the Balance and Headache Center at St. Luke's Physical Therapy on Eighth Avenue in Bethlehem.
She explains that a person needs two things for balance. Postural stability is "what most people are familiar with" and involves keeping your center of gravity balanced over your feet, staying upright and steady. Gaze stability comes into play coordinating eye and head movements.
According to vestibular.org, the balance system is an important receptor fed by the eyes, muscles and joints and other senses. The incidence rates of vestibular and inner ear troubles vary widely, because they're often inaccurately reported, the website says.
When Gordon first started working with Kennedy in May 2012 she remembers thinking, "How is he able to stand without using an assisted device?"
Early steps
Kennedy says earlier physical therapy sessions after his injuries didn't work.
Gordon put Kennedy on their Balance Master machine to test his equilibrium.
An average score for a male of his height and age was 70. Kennedy scored 4. Gordon thinks it's the worst score St. Luke's has ever seen on the machine. And his hand-eye coordination tests were "significantly abnormal."
Kennedy says he had very low expectations from physical therapy. "I just wanted to be able to not feel so dizzy and nauseous all the time. When we started, that was all I was really hoping for — I've far exceeded that."
When Kennedy started in rehab, he tried to stand steady with his eyes closed and feet apart. Then he worked up to adaptation exercises that involved focusing on a target and moving his head as quickly as he could while still viewing the object.
Gordon says the exercises aren't painful, per se, but that the center starts slow because patients need to work up a tolerance for them.
Therapists also tasked Kennedy on uneven surfaces and varied patterns of movement to hone his abilities.
Getting back to normal
Gordon hopes Kennedy's story gives others hope.
"Sometimes people feel that (with) an injury from long ago that they may not benefit from balance and physical therapy. That's not necessarily true — Daryl's living proof of that."
Gordon says concussions are common in sports, falls and auto accidents, but they can cause significant deficits.
"It's always worth coming in to get evaluated. It's very rare that patients haven't had some benefit," she says.
Today Kennedy can stand still without feeling like he'll fall over. He can go up stairs and even drive. His once-constant vertigo is down to one or two occurrences per week. A summer test on the Balance Master had him at a score of 47.
But Kennedy measures his progress differently.
Today he can play outside with his 2½-year-old daughter and 7-year-old son, Chase. He can catch himself before he'd fall. He's back to work full time at the Northampton County Children, Youth and Families Division. And in the summer he even competed in a Warrior Dash at Pocono Raceway.
He still plans to continue his therapy, saying "It'd be kind of crazy to stop now."
Source: Lehigh Valley Live
url: http://www.lehighvalleylive.com/entertainment-general/index.ssf/2013/11/iraq_veteran_returns_home_with.html
Access 11/12/2013