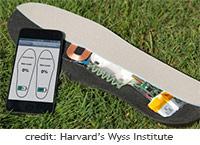 Falling can be scary. It can happen on a slippery surface, on ice or just when you're not paying attention. Oftentimes, it happens to older adults, in any location, on any surface.
According to the Centers for Disease Control and Prevention:
One in three seniors fall each year, and 25 percent of those who fall suffer moderate to severe injuries, such as hip fractures.
Only 25 percent of hip fracture patients make a full recovery; 40 percent require nursing home care, and nearly 25 percent die within 12 months.
Because of the public health threat caused by falls, physicians and researchers from the Institute for Aging Research (IFAR) at Hebrew SeniorLife, Beth Israel Deaconess Medical Center, the Wyss Institute for Biologically Inspired Engineering at Harvard University, Harvard Medical School, and Merck Sharpe and Dohme (MSD) Consumer Care, Inc., of Memphis, Tenn., got together to figure out how to reverse the trend.
They found that when they installed vibrating insoles, called piezoelectric actuators, into the bottom of an individual's shoe, their balance and walking improved, thereby reducing their risk of falls. The study was published in the Archives of Physical Medicine and Rehabilitation.
"Although loss of sensation in the feet is a common problem among elderly people that can impair balance and gait and result in falls, there are currently no interventions available that can reverse sensory impairments and prevent these dangerous consequences," says the study's lead author, Lewis Lipsitz, MD, Director of the Institute for Aging Research at Hebrew SeniorLife and Chief of the Division of Gerontology at BIDMC. "We were very excited to discover that small amounts of vibratory noise applied to the soles of the feet may be able to do just that."
The vibrating insole study enrolled 12 healthy elderly volunteers, between the ages of 65 and 90 years old. Two piezoelectric actuators that delivered very low level vibration that could not be felt were placed in the medial arch region of the insoles. The stimulation was applied continuously for about six to eight hours.
Participants underwent tests that measured their balance and assessed their gait (a person's manner of walking). They were also given a timed "Get Up and Go" test, which measured how long it took participants to stand up from sitting, walk three meters, turn around, walk back and sit down again.
Results of this study showed the vibratory insoles significantly improved performance on the timed "Get Up and Go" test, as well as balance and walking itself. Also, the effect of the insoles lasted the entire time the vibration was applied to the feet. This gave the researchers great hope that the insoles could soon play a role in improving gait and balance, and possibly decreasing the risk of falls in seniors.
Because the study was done with healthy volunteers who had not had a fall, the researchers do not know yet whether the insoles will work in elderly people who have fallen or have a loss of sensation in their feet.
"A lot more work needs to be done to develop a more powerful vibrator and test it in people with a history of falls and mobility impairment," says Lipsitz.
Above content provided by Beth Israel Deaconess Medical Center. For advice about your medical care, consult your doctor.
Source: Beth Israel Deaconess Medical Center
url: http://bidmc.org/YourHealth/BIDMCInteractive/BIDMC-Bulletin/Archives/Nov14/Leading-Edge.aspx
Accessed 12/1/2014