Provider Image: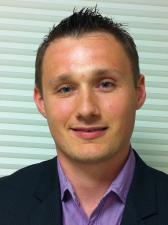 Certifications:
"Vestibular Rehabilitation"competency based course endorsed by American Physical Therapy Association
I am a NY State licensed Physical Therapist, specializing in evaluation and treatment of patients suffering from vestibular disorders but also treating patients with neurological and orthopedic impairments. I also specialize in treatment of patients with Cerebral Palsy, Traumatic Brain Injury, Spinal Cord Injury and stroke. I am an owner and President of a very busy outpatient practice that provides excellent physical therapy care in Northern Rockland County, NY. My main point of interest is the use of current evidence based methods of evaluation and treatment of Vestibular Hypofunction and Benign Paroxysmal Positional Vertigo (BPPV). 
Practice description:
PTPC - Physical Therapy & Performance Center was established in 2004. It is an outpatient physical therapy practice owned by IRM, P.T., P.C. It's philosophy is to provide the highest quality physical therapy services in Rockland County, as well as Northern Bergen County, NJ. The practice occupies over 1700 square feet, featuring state of the art equipment and continues emphasis on quality patient care and friendly relaxed environment. We provide services to patients with orthopedic, neurological and vestibular dysfunctions. We also perform physical therapy services to patients who are actively involved in sports performance and athletes. We serve a varied population including pediatric, adult and geriatric patients. We participate with all major insurance carriers and are Medicare certified along with worker's compensation and no -fault.
Our location has also been a major factor contributing to our success. We are located in a busy shopping plaza with the anchor stores being CVS, McDonalds and Outback Steakhouse. In addition there is a large pediatric medicine practice, chiropractor, dentist, podiatrist and Quest Lab. Geographically we are just diagonally across from Good Samaritan Hospital.
Our goal is to generate the most quality services to the community.
Clinic Locations:
28 B Indian Rock Plaza
Route 59
United States
845-368-2180
fax 845-368-2187
www.ptpcphysicaltherapy.com