Provider Image: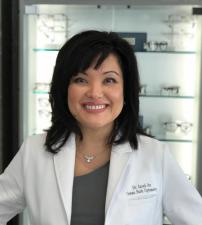 Certifications:
Board Certified, Diplomate of the American Board of Optometry | National Board of Examiners Treatment and Management of Ocular Disease Certified | Diagnostic & Therapeutic Pharmaceutical Agent Certified | Lacrimal Dilation and Irrigation Certified | Glaucoma Certified | Corneal Refractive Therapy Certified | GOV Orthokeratology Certified | Kerasoft Certified | Synergeyes Certified | ​Zenlens Scleral Lens Certified | BlephEx Certified | Kamra Corneal Inlay Post-Op Care Certified | NeuroVisual Medicine Certified for the Evaluation and Treatment of Binocular Vision Dysfunction | Member of the American Optometric Association | Member of the American Optometric Association Contact Lens Section | Member of the California Optometric Association | Member of the Los Angeles County Optometric Society | Member of the American Academy of Orthokeratology & Myopia Control | Member of the Optometric Extension Program (Enhancement of Visual Performance) | Member of the Society of NeuroVisual Medicine
Provider Specialties:
Neurovisual Optometrist
Optometrist
NeuroVisual Medicine for Binocular Vision Dysfunction
Dr. Ito is a therapeutic licensed optometrist who is trained in the treatment and management of visual conditions and eye diseases, specialty contact lenses, orthokeratology or myopia reduction and control, and ocular pre- and post-operative care. She is certified at the highest level possible, with the ability to treat glaucoma and other eye conditions with prescription medications. Dr. Ito is board certified by the American Board of Optometry, having met the requirements to achieve Diplomate status.  She is enthusiastic about expanding her education and training, and keeps abreast of all new developments in eye care science and innovations in eye care, contact lenses, frames and lenses. She earned her Doctorate of Optometry degree from Southern California College of Optometry in 1993. She received her Bachelors degree with honors from Occidental College in 1989. She also completed accredited programs at the California Institute of Technology, UCLA, UC Irvine, Korea University, Yonsei University (Korea), and Waseda University (Japan), where she spent a year as an international student. She is an early adopter of new technology and is eager to provide customized solutions for her patients.  Most recently, Dr. Ito received training from Dr. Debby Feinberg of Vision Specialists of Michigan in NeuroVisual Medicine to treat Binocular Vision Dysfunction to help patients with symptoms such as headaches, dizziness, anxiety and gait imbalance.
Clinic Locations: