Provider Image: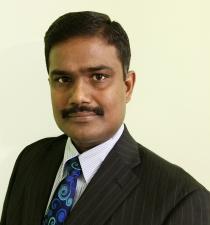 Certifications:
Successfully competency based vestibular course through Emory University, Atlanta, Georgia. International teaching faculty: Vestibular Rehabilitation Seminars. Certified : lymphedema therapist, yoga instructor, and yoga Therapist.
Saravanan Chockalingam [Van] PT, DPT, CLT, C-IAYT 
Practice locations : Waterford, MI- 248 682 3933. Algonac,MI- 810 671 0018
Dr. Saravanan Chockalingam, PT, DPT, CLT, C-IAYT  is a Physical therapist specialized in Vestibular Rehabilitation and is currently practicing in an outpatient setting at FYZICAL Therapy and Balance Centers, Waterford, Michigan. He has been practicing physical therapy for more than 26 years and has had the opportunity to practice his unique skills of vestibular rehabilitation for 14 years in a variety of clinical settings. Dr. Chockalingam successfully completed the competency based vestibular course through Emory University. He attended several seminars and clinical meetings on vestibular rehabilitation and implemented the same in his own private practice. He also successfully developed and implemented Vestibular rehabilitation programs in home care, hospital and out-patient rehabilitation settings. Dr. Chockalingam has provided numerous presentations on vestibular pathology and rehabilitation in the form of seminars as well as in-services before therapists and physicians, both nationally and internationally. He completed his Doctorate degree in Physical therapy at Utica, New York. He is a Professional Member and Vestibular specialist, Ambassador to Defeat Dizziness™ in Vestibular Disorders Association (VEDA). He is also a certified Lymphedema therapist.
Dr. Chockalingam was certified as a Yoga Instructor in 2004 with the Vivekananda Yoga Research Foundation, Bangalore, India. He is a certified Yoga Therapist by International Association of Yoga Therapists (IAYT). He practices Yoga Therapy in conjunction with Physical Therapy. He conducted numerous Yoga Therapy seminars and camps.He has completed APTA Credentialed Clinical Instructor Program.
 Please visit his website: WWW.DEFEATDIZZY.COM
Clinic Locations:
3901 Highland Road, Suite B
United States