Thursday, August 24th, 2023
5pm PDT / 8pm EDT
YOU CAN BE A LIFELINE FOR VESTIBULAR WARRIORS EVERYWHERE.
Will you come together with the vestibular community to show your support and share in an "Evening for a Life Rebalanced," VeDA's annual virtual fundraising gala?
You know how vestibular dysfunction affects people physically, mentally, and emotionally. You know that simple tasks, such as shopping and doing laundry, become obstacles to overcome. And, you know that because dizziness is an invisible condition, people are often not believed and left isolated.
But you can help!
By joining the celebration, you offer community and direct support to people who are desperate for a lifeline in their struggle to regain a life rebalanced.
PURCHASE A VIRTUAL FUNDRAISER TICKET
LIMITED EDITION VIP GALA KIT
Have the full gala experience from home while supporting people who are struggling with dizziness.
You can increase your support by purchasing on of the limited VIP Packages. As an event VIP you will receive on of the few hand packaged Gala Kits with everything you need create this year's signature Fiona Flamingo mocktail/cocktail at home.
What's included?
Mocktail/cocktail recipe by Alicia Wolf "The Dizzy Cook"
Elegant flamingo mocktail/cocktail glasses
Flamingo mocktail/cocktail accessories
Exclusive gala coasters
Printed gala program
PROGRAM OF EVENTS
Welcome from Cynthia Ryan, VeDA Executive Director.
Keynote address about progress in the medical system from VeDA Board President Dr. Habib Rizk.
Exclusive Life Rebalanced Chronicles mini-episodes.
Panel discussion with vestibular patients Laura Cala, Vinisha Huwer, and physical therapist Dr. Madison Oak.
Celebration of support with past board presidents Kathleen Stross and Louise Geib.
Message about the art print giveaway prize "Blue Noise" from artist and vestibular patient Nicolle Cure.
"Blue Noise" giveaway winner announcement.
Thank you from the Board of Directors.
All in under 45 minutes!
"Blue Noise" Giveaway
In addition to supporting dizzy people and attending this community event, your registration gets you entered to win a free print of "Blue Noise."
This painting was created by artist and vestibular patient Nicolle Cure. It represents the darkness of her severe vestibular disorder and the strength and hope she gained through the journey.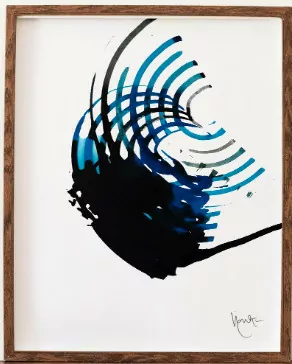 Send your Gift Early
When you make a donation during the live virtual gala, your gift will be recognized by live presenters. But, you can send your gift early to have it recognized too! Click below to send your early event gift.