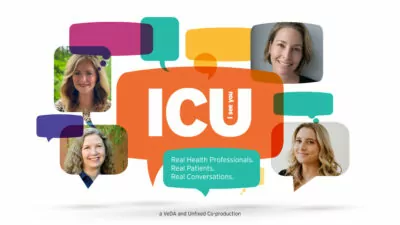 ICU – "I SEE YOU" PODCAST
Vestibular Rehabilitation: Movement and Exercise for Vestibular Disorders
LISTEN NOW
Available wherever you get your podcasts.
Movement and exercise are two words that can be really triggering for people with chronic illnesses. You may have heard someone say to you "just exercise, you'll feel better," but when we take that advice from our doctors the opposite effect might happen. More often than not, picking up a new exercise routine can actually make you feel worse if your symptoms and current state of chronic illness is not considered first and foremost. Exercise CAN be used to your advantage, and you can absolutely reduce your sensitivity to movement, reduce the number of attacks you have, raise your threshold, and improve your quality of life through movement if you approach it with very specific intentions. In this episode they talk about how and what kind of movement benefits people with vestibular dysfunction.
About the Guests
Stephanie B. Looney is a 50 year old retired Physician Assistant (PA-C) who worked in the field of dermatology and is a mother of two teenagers. 10 years ago my husband and she visited NYC and while there she experienced a choking episode that changed the course of my life. Three days later, she was in the emergency room with head pain, nausea, and extreme dizziness. After being evaluated and misdiagnosed for over a year, she was eventually diagnosed with vestibular migraine and PPPD. Her vestibular journey has included countless procedures, numerous medications, and therapies to try to improve my symptoms. She has wrestled with my chronic disorders both physically and psychologically, learning along the way that self-compassion and the support of others is a key part of the treatment plan. In the last year and a half she has worked with Dr. Madison Oak, The Vertigo Doctor, who taught her the importance of movement, no matter how small, and its positive impact on the vestibular system. Today she deals with chronic dizziness and weekly migraine attacks while trying to live a fulfilled and meaningful life. Her life looks different now compared to before my diagnosis; however, she has learned to embrace helpful accommodations and know that she is more than just her vestibular disorder.
Dr. Madison Oak is a physical therapist who specializes in treatment of Vestibular Migraine, Persistent Postural Perceptual Dizziness, and other vestibular disorders. Madison is the founder of Vestibular Group Fit, @thevertigodoctor, and Oak Physical Therapy & Wellness. Madison strives to provide excellent, evidence based, vestibular resources that are thorough, helpful, and actually make sense to people who have vestibular disorders. Migraine and dizziness disorders affect SO many people in the US and the world. Madison's journey began when she was working in an NYC outpatient Physical Therapy clinic. The day she saw an incredibly nervous, acutely dizzy, Manhattan bus driver, followed by a chronically dizzy concierge home visit patient, she realized that many people who need vestibular care cannot always access the care they need. There is not enough information about dizziness, why we get dizzy, and how to treat dizziness. It's simple, but it feels so scary and complex when you're actually dizzy. So, she started @TheVertigoDoctor on Instagram, a telehealth clinic in 8 states addressing only vestibular disorders, and Vestibular Group Fit. Between these three, there are accessible resources for all of those who live with vestibular disorders no matter your specific situation! When she isn't talking about the vestibular system, you can find Madison out skiing in Jackson Hole, baking chocolate chip banana bread, and hanging out with her dog, Hugo.
Hosts:
Cynthia Ryan, Executive Director of the Vestibular Disorders Association (VeDA) https://vestibular.org/
Kimberly Warner, Founder and Director of Unfixed Media https://unfixedmedia.com/
This podcast is a co-production of the Vestibular Disorders Association (VeDA) and Unfixed Media.
TRANSCRIPT
VeDA uses otter.ai to create machine-generated transcripts. This transcript may contain errors.
Cynthia Ryan – VeDA 
Welcome to the ICU Podcast where we explore the vestibular experience through conversations between patients and the health professionals who care for them.
Kimberly Warner – Unfixed Media 
During this podcast, we invite patients to share their stories and healthcare professionals to ask questions, so they are equipped to better care for and truly see the invisible challenges faced by their patients. I'm Kimberly Warner.
Cynthia Ryan – VeDA 
And I'm Cynthia Ryan. And we are your hosts on this journey of discovery.
Kimberly Warner – Unfixed Media 
Welcome, everyone, to our next ICU podcast episode, this one is kind of near and dear to my heart. I'm really looking forward to the discussion today about movement. So as we many of us know, movement and exercise are two words that can be really triggering for people with chronic illnesses. You may have heard someone say to you just exercise you'll feel better. But when we take that advice from our doctors, the opposite effect might happen. It happened with me, more often than not picking up a new exercise routine can actually make you feel worse if your symptoms and current state of chronic illness is not considered first and foremost, exercise can be used to your advantage. And you can absolutely reduce your sensitivity to movement, reduce the number of attacks, you have raised your threshold and improve the quality of your life through movement if you approach it with very specific intentions, and if you have a really skilled practitioner working with you. Today we'll talk about how and what kind of movement benefits people with vestibular dysfunction. And it's very exciting today to because we have our Patient and practitioner guests who know each other and they actually have been working together for almost two years. So Cynthia, do you want to introduce Madison?
Cynthia Ryan – VeDA 
Yeah, thank you. Thanks for the introduction. Kimberly Madison. Dr. Madison oak is here with us today and she is a physical therapist and VeDA member. She specializes in the treatment of Vestibular Disorders. She's the founder of the stimulator group fit which she will describe later, the vertigo doctor and OIC physical therapy and wellness. When she isn't talking about the vestibular system. You can find Madison out skiing in Jackson Hole baking chocolate chip banana bread. I hope you're bright enough for everybody Madison and hanging out with her dog Hugo
Kimberly Warner – Unfixed Media 
and we also have Stephanie Stephanie B Looney is a retired physician assistant and mother of two teenagers welcome Stephanie. 10 years ago while visiting New York City she experienced a choking episode that changed the course of her life. She ended up in the emergency room with head pain, nausea, extreme dizziness. After being misdiagnosed for over a year. She was eventually told she had vestibular migraine and pppd her vestibular journey has included countless procedures, medications and therapies to try to improve her symptoms. In the last year and a half. She has worked with Dr. Madison Oak, who taught her the importance of movement no matter how small, and its positive impact on the vestibular system. So I am so excited to hear your story, Stephanie and how your journey with Madison has evolved. But let's begin. Stephanie just hearing a little bit about that the Steve Miller journey you know, and an abbreviated sounds like it was long, but an abbreviated version of that journey and how you finally arrived at your vestibular diagnosis.
Stephanie B. Looney 
Sure. Thanks for having me. It's just such a pleasure to be with all of you today. So my journey, as Kimberly mentioned, was about started about 10 years ago, during this trip in 2012 to New York, went with my husband to celebrate my birthday and just had a strange kind of choking incident in the hotel room. We came later to find out it was just an alert of laryngeal spasm. So at the time, we kind of went about the rest of our trip, felt a little off. But three days later ended up in the emergency room with what I call the trifecta of symptoms was always as I described it for so many doctors, nausea, head pain, which was typically the back of my head and extreme dizziness. And so from that point on, I have never really felt the same or prior to that incident. So my life really took an interesting turn. And so, when that happened, simple tasks became very good. fficult so life as I knew it, did not exist anymore. So everything from showering, driving, cooking, getting things out of the dishwasher unloading the dishwasher was a big one, Madison and I worked on that. But everything was different, you know, it was this unbelievable. Loss of the agency over my body and what I could do and not do, which I'm sure is another podcast, but the mental, taxing of that is very significant. So, because of my medical background, and my a type personality, I was determined to find out what was going on with me, which, you know, works for a while, but after after a while, it's exhausting. So, as Kimberly mentioned, I went to any specialist, I could find, I was fortunate enough to have the resources to do that. I live right outside of Washington, DC. So we have lots of specialists in this area, and never really landed on my diagnosis, until a year later. had so much testing everything from blood patches, any kind of imaging tests, you can imagine I've had it and was misdiagnosed a lot, which was very frustrating. And again, my background being in medicine, I was really dug in about trying to to heal myself and treat myself and I couldn't solve this puzzle. And the math didn't add up, you know, how could this be that I would go from completely balanced to imbalanced in the in the blink of an eye. So I just finally heard about Johns Hopkins, they have a balanced clinic or dizziness clinic there, which is a whole process in and of itself, you have to apply as a patient send in your you know, chart notes, which are this thick, I'm sure lots of vestibular patients can relate to that. And then you're selected or approved to be a patient. So that process took many, many months. And I saw a physician there neurologists there who said you have vestibular migraine. And it was very clear he was you know, fairly confident. I would say very confident the minute I walked in the door. And of course he went through my chart and so Stabler migraine and then triple PD eventually, which is this chronic dizziness that I experienced 24/7. So yeah, that's kind of the abbreviated version, hopefully of my story.
Kimberly Warner – Unfixed Media 
I can relate to so much of what you just said, Stephanie. I mean, every part of it. Thank you for sharing, I know it's a lot deeper and more traumatic than we could ever portray in a five minute synopsis.
Cynthia Ryan – VeDA 
Your story is so much like so many vestibular patients stories, Stephanie. And one of the I think really interesting parts is that, you know, you as you said, as a health care professional, it still took you, you know, you knew how to how to work the system, you understood the body. And you could recognize certain signs and symptoms, but it still took you a long time to find the right practitioner to get an accurate diagnosis. And also your the, you know, you're triggered that that choking episode is is one that I haven't heard before. It's really interesting. And I'm sure that's kind of a whole story in and of itself how those things are connected.
Stephanie B. Looney 
Yeah, yeah. And it honestly sort of steered us down several rabbit holes that at certain points, they thought that they might have had a low pressure, CSF leak, cerebrospinal fluid leak, and that led to lots of blood patches bed rest for 10 days at a time. Which none of those alleviated my symptoms. So, you know, for similar disorders are really tricky. And I'm sure every vestibular patient is is probably shaking their heads right now thinking yes, absolutely. You know, it's not strep throat where you can just take an antibiotic and it's gone. It's it's more nuanced than that for
Cynthia Ryan – VeDA 
sure. Yeah. And the vestibular healthcare professionals are out there shaking their heads too, because, quite frankly, not everyone wants to deal with vestibular patients because they're messy. So Madison tell us when you tell us about when you fell in love with the vestibular system decided that you were going to focus your career caring for people with dizziness and imbalance.
Dr. Madison Oak, PT, DPT 
if you don't know me from Instagram, you might not know that I am addicted to talking about the vestibular system to the point where the vertigo doctor.com. And at the vertigo document on Instagram started because I had this information from partially in PT school. And then I did a clinical 360 balance in Austin, Texas. And I was like, Oh, the vestibular system like this is kind of cool. And then I wouldn't shut up about it. And my now fiance at the time, he was like, you've got to do something besides tell me about this information, like it was the middle of the pandemic, I wasn't seeing a ton of patients, if any at all, because I worked in outpatient on the Upper East Side of Manhattan, and most of the people were in the Hamptons, who usually go to that clinic. And so he was literally like, you have to do something with this information in your brain. Like, I love you, you can keep talking to me about it, but like it's gotta go somewhere else on the internet. So that's how the vertigo doctor on all platforms started. And I really decided to dedicate my career to it probably three or four months after I graduated. So a lot of you might not know I only graduated in 2020. And this is being recorded. Almost exactly three years after I graduated PT school. And I worked in a clinic I got a job February before the pandemic like right when I moved to New York and I had to graduate school before I could start and finish my last internship. Long story short, that got canceled and but I still had this job, but he had no patience for me because everyone was in the Hamptons. And I was like, well, I'll just like wait around until that time. And then probably June and July came around and patients started come back in the clinic and there were so much chronic dizziness. And I personally like to think that chronic dizziness for a lot of people, not everyone, of course, but for a lot of people is a result of the pandemic because we stopped going outside, we stopped exposing ourselves to these things, driving grocery stores target, you name it. And so a lot of people who were living with some dizziness prior to this, or got COVID and got some dizziness, or for some reason during that time, they got diagnosed with vestibular migraine or sort of experiencing vestibular migraine, they were all being sent to me because although I worked in like a half orthopedics half vestibular clinic, known in my clinic like to treat the chronic dizziness, everyone was like neuritis or BPPV. Like we've got you no problem like you're in the right place for that we've got the goggles, we've got the testing, whatever. But when people started to become chronic no matter what it was from, whether it was through PD or chronic VM or whatever people will be like Madison, you could just have them. And I was a new grad. And I was like, I truly don't know what to do with these patients. And I know for a fact that I probably made a lot of those patients worse. And I really hope that they find me again. And I'm like, I know what to do now. And I can fully admit that I know a lot of practitioners have a hard time admitting that. But I think it's an important thing to say like, I've made mistakes in this world. And I've really learned from them. But as these patients were getting worse, I was like, Hey, why is this happening? And so I just dove into the research. And from then on. I was like, I'm going to do this, I'm going to do this thing. And we have since moved out of New York. And at that time I started my clinic and that's when Steffi and I started working together. And I also started vestibular group that at that time, and the video doctor on Instagram started to grow. And so I truly love treating dizziness. But I understand and I hear all the practitioners who don't like to treat it, I just wish they would refer accurately. And I understand that a lot of patients have a really hard time finding providers who actually love to treat this, but we exist, I promise. And the ones of us who do exist are literally like it's our favorite thing. Like we love to make patients feel better than business. It's the most rewarding and best job on the planet in my opinion.
Cynthia Ryan – VeDA 
I will say that vestibular physical therapists are some of the most impassioned health care providers that I have worked with. And it's your you're coming into this career during the pandemic, basically is a good kind of example, what you were describing what happens to people or what happened to a lot of people during the pandemic of being, you know, stuck at home and not getting the stimulation of, of being around other people or being in busy environments. Basically, the causes them to decompensate we know what many people know what that means. And and we, I guess that's a good example of how we actually without even thinking about it. Our are out of our normal movements and what we do every day compensating we're doing kind of a physical therapy just by interacting with people and Moving Every Day And so that's a great it's
Kimberly Warner – Unfixed Media 
so counterintuitive when we are, you know, so we need somebody like Dr. Madison to say, you need to be moving because as which brings me to Stephanie, before you met Madison before you were getting some good advice. What were some things, some traditional therapies that you were trying and what was your success with those?
Stephanie B. Looney 
Yeah, gosh, yeah, I wish I had found otter medicine earlier. In my journey, I think that would have made a lot of difference. But prior to finding the vertigo doctor, I tried probably 30 different medications. So pharmaceutical treatment of vestibular migraine, everything from seizure meds to blood pressure medication, SSRIs. So, you name it, I tried it. As I mentioned before, there was there were some recommendations for blood patching, bedrest things of that nature. I also you know, when you're desperate to feel better, you'll try pretty much anything. So I, I love traditional medicine, but I'm also love the fact that there are other opportunities and options that I wasn't taught as a traditional medicine professional. And so I did some homeopathic treatments, some of which, some of which were a little strange, I have to admit, but I did them because again, you know, the, the desperation that patients feel when they're off balance, and, and having the stimulator symptoms is huge. And so, you know, if a peddler pulled up at my front door and said, try this, you know, I'd probably try it. So, all that to say is I recently did, it's been about a year now, maybe a year and a half, I did do an inpatient hospital stay at a Headache Clinic in Philadelphia. You know, the the, the thought process behind that was let's reset the brain. And it does work for some patients. But for vestibular migraine, it's a little bit trickier. So to answer your question, get really I think I've tried everything, including physical therapy at the very beginning, not with with Madison. And I think, at the time, it was not the right fit for me, I was not in a place where I could tolerate much movement at all. And so the physical therapist that I saw, who was lovely, but was not as well versed in vestibular disorders as Madison was or is, and there was it was, it was too hard. I had to drive to the appointment, which again, you know, for vestibular patients, is something that we just can't take for granted. We are sometimes homebound. So to be able to drive to the appointment, have physical therapy for an hour, and then get back in the car and drive home was was really, really difficult. And I ended up stopping that particular treatment because I couldn't tolerate it. So
Kimberly Warner – Unfixed Media 
yeah, yeah, I can relate to that as well. Stephanie. The I did 13 rounds of physical therapy right after I had my first visit with a neurologist, but they were focused on my neck. And so they were doing all with neck PT, and I just kept getting worse and worse and worse and worse. And so, yes, but did you try a psychic? I'd went that was my most desperate appointment. And
Stephanie B. Looney 
I have to say, I have not tried that. But I am not crossing anything off the list at this point.
Cynthia Ryan – VeDA 
Oh, that's awesome. Madison, I want to ask you, you're a trained physical therapist, you know, besides being a vestibular specialist, how does your approach to movement and exercise Divor differ rather from traditional vestibular rehab? You know, I know that you're, you have a very big focus on movement. How is that different than what someone would you know, a patient who's seeing a traditional vestibular rehab PT.
Dr. Madison Oak, PT, DPT 
Do definitely. So as a physical therapist, you go through three years of school, you graduate with a clinical doctorate of physical therapy. And they say, okay, great. You're a generalist. You can treat hips, backs, knees and a little bit of vestibular systems, you everyone learns the Epley maneuver, and you kind of descend them on our way. The University of Wisconsin Madison has a much more thorough vestibular program just because the woman who runs the neuro program is phenomenal and she really passionately believes in teaching about rehab And so you learn VR times one that had checking exercise cancellation, when you move your whole body, you learn all of these things. But what they don't tell you and they don't teach you in school, no matter how much vestibular you learned in like PT school, is that it does not work if you have a chronic disorder. And so when I see my patients, I have become a very function forward PT, I do not care if you can't whip your head back and forth and keep your gaze stable at 240 beats per minute, if you can't unload the dishwasher, right? And so if we're practicing this very specific thing, which the body trains to what it's taught, right, if you do 100 squats, you're gonna be able to do squats better, but that doesn't make you better at doing bicep curls. Right. And so the same thing applies to vestibular rehab. And I have found it much more effective to go about this in breaking down specific tasks that people are having trouble with because of dizziness and vertigo and other vestibular symptoms. I find that is a much more effective thing than saying, Okay, we're just going to do the traditional vestibular exercises. And that's not to say that I don't give them I guarantee Stephanie can quote times where I've made her or asked her kindly to shake her head back and forth and spin in circles and walk in crazy patterns and do all this stuff. But it only works when the migraine component in this specific scenario is under control. If you have Vestibular neuritis, so unilateral vestibular hypofunction for some reason, it works really well to do those head shaking exercises because your brain is learning to compensate. But Vestibular neuritis is a one time infection. For most people, there's a very small percentage of people who will get a twice fine. But generally a unilateral vestibular hypofunction from her neuritis, which is very common will start to compensate in your brain very quickly. You may have some difficulty with eyes closed on uneven surfaces, you might have some difficulty with gaze instability, not to belittle neuritis at all it is also very frustrating and debilitating for many people. But those types of exercises work incredibly well. There's really good research to show that they do. There's clinical practice guidelines for pts. So even if your PT doesn't have a ton of experience, if you live in a rural area, they can follow those guidelines and you'll do pretty well. But vestibular migraine is so common, more common than we give it credit to for because it is probably incredibly under diagnosed. Right. And then we have three PT on top of this, which needs safety in order for that to also go away. So by breaking down movement and saying like is the movement going to be squats is the movement going to be unloading the dishwasher or doing laundry, both of those things can coexist. And I find that it's more effective and honestly more helpful to the patient who just wants to be able to do stuff, right? They want to be able to hang out their family, they want to be able to cook, they want to be able to drive, they want to be able to spin in circles with their kids, they don't care, can I move my head back and forth. And so although both of these types of exercises are important, I find that focusing on the function first and breaking down that sort of movement into smaller movements that then build up to the bigger movements is more effective. And I also find that movement in general is super helpful because your vestibular system is like your body's gyroscope without a vestibular system. As the people with bilateral vestibular dysfunction can tell you, it's really hard to like stay upright, and your gaze will be unstable. And walking on uneven surfaces is really difficult, right? Because your vestibular system tracks acceleration, spatial awareness and so many other things that we don't recognize it does, until something's wrong with it. And so if you have a vestibular disorder, you need to move your body on a regular basis. Just like if you're a powerlifter competing in a competition. You have to keep doing snatch squats or whatever you're doing right like really big, like jerky movements in order to stay as strong as you are in those movements. And there's no difference in a vestibular disorder. But I think because it's so abstract, people start to go down this hole of like, well, I don't need to keep doing that. Because like it's working fine right now. But if I can do 50 squats today, if I don't do any squats for a year, I'm gonna go back to doing two, right? So it's a really important thing on all of those levels to just move your body every single day.
Cynthia Ryan – VeDA 
I like your your term function forward that you know it's really about getting people back to doing the things that they want to need to be able to do.
Kimberly Warner – Unfixed Media 
Can I call you St. Madison? I mean, honestly, what you're providing is incredible. And I just I want to know Stephanie, how did you find Dr. Madison oak and what was it like when you first started moving and unloading the dishwasher? Yeah, what was that like for you?
Stephanie B. Looney 
So Yeah, so it was such a blessing to find her for sure. I echo your sentiments, Kimberly, she is definitely st status for sure. I found her. So I've been on VeDA's website, I've used VeDA for so many things. And there's such an excellent patient resource. And I think through a trail, and I can't remember exactly how it happened through social medias where I found Madison, so whether it was maybe through the Dizzy cook, you know, just, they tend to be in a circle. And so once I found that circle of people, it was like a, you know, such a relief, you know, the precarity of this disease process. And the these disorders that that I deal with, and vestibular patients deal with, are so precarious, one day feel like I can conquer the world, it's not too bad, I'm going to get back to, you know, my regularly scheduled programming, and then the next day, your threshold has been breached, and you're in bed. And so it's very isolating, to say the least. And there's so much shame and guilt associated with with that, but I'll, I won't get into that, because again, that's probably another podcast. But when I found Madison on social media, the thing that struck me the most was that she had a very deep understanding of vestibular disorders. So when you see somebody on social media, doing certain, certain exercises, and explaining vestibular migraine, to her followers, better than any neurologist that I've heard in the past, and knowing all the triggers and knowing what it can look like for patients. It was it was fantastic. And such a relief. And you know, I think I even remember just sort of tearing up when I saw her and what she was doing. And the fact, again, that she loves what she does makes a huge difference and her positivity, her realism, the fact that she can really personalize the treatment to what you're going through, I think was key. So it was not, you know, my workout routine. And my exercises look very different than Madison's next patient, you know, that she has. And I started off as a individual, client, individual patient. And so we did physical therapy weekly for a long time. And she took the time to ask me, just like she was saying, functionally, what are you having problems with? What do you what would you like to be doing that you can't do right now. And so there's this constant, or there was a constant reassessment of of how things were going. And Madison's one of Madison's favorite drawings is her. She probably has one right now that this disease process and this journey is not linear. So for her to say that to me out of the gate, to say, look, this is not going to go perfectly. You're gonna have high moments, low moments. There it is, I'm sure there you go. Right.
Cynthia Ryan – VeDA 
For those of you who are just listening, it's a squiggly line. Hopefully, trending upward, right? Yes. Right. Yeah. Up and down
Stephanie B. Looney 
and down. Expectations for me, and then also setting goals together out of the gate, which was really helpful. So I remember Madison asking me, you know, like, what did you use to do what, what do you wish that you could be doing right now and one of them was to ride my stationary bike or have a stationary bike. I used to go into the studio and ride the bike because I could hold on to it, you know, there was some stability to the bike. And I found myself not being able to tolerate that anymore. Even just the slightest jerking movement for a lot of vestibular patients is like, you know, exacerbated times. 1000. So, we worked on that she helped me get back on the bike I'm, I can ride the bike now. But I still have days where, you know, it's not going to work and I have to run reassess, and reframe the day. So started as a private patient and, and worked with her for so long. And she really, really helped me understand the importance of movement. And the vestibular system itself, even though I was trained as a PA, pas don't really spend that much time. I mean, I can vouch for that, you know, our vestibular training is minimal, at best. So for her to be able to explain to me like, this is your, this is the brain, the brain is really confused right now. And it's being overloaded by sensory input, proprioception we talked a lot about. So Madison was part of the singular rehab therapist, part coach, Park professor. And I think that's really important to know and understand what we're experiencing and why things are happening, at least for me, that gives me some, some comfort. And her approach is just, again, like no other strong patient education, she really wants you to understand what's going on, which again, can kind of lessen the anxiety and the fear of the dizziness so that you can start to move again. Yeah,
Cynthia Ryan – VeDA 
movement. Let's talk about movement, Madison. As Kimberly mentioned, in the beginning, so much of dizziness, makes it feel like it's impossible to do any sort of movement. And you've talked about that with your symptoms with your bike. Stephanie Madison, how can we make movement possible?
Dr. Madison Oak, PT, DPT 
Yeah. So when we think of movement, right, most people were like, well, I have to exercise. So I need to like go on a run, and then like, come home, do 50 bicep curls. And then I need to hold the plank. And then like I can go on with my day. That's like what we are taught as kids. But what we don't recognize is like, movement looks like a lot of stuff. And there used to be used to be as the key word here, a recommendation that exercise only counts, if it's 10 minutes at a time, I think a lot of us are probably still in that mindset, exercise counts, if it's one second exercise count, if it's one minute. And so when we get to this place where we're like, if I exercise in the traditional sense, I'm gonna feel worse, then that like is going to perpetuate that thought in our brain. And so much of dizziness is not in your head, but like perpetuated by anxiety and the, like different symptoms and emotions you get from being dizzy and feeling like you have a loss of independence and things like that. And so when that happens, your brain goes well, I have to exercise like I used to, in quotes, right? So instead of that, if we broke down a very concrete thing, like a hamstring tear, we all know someone who has like pulled the back of their leg, your hamstring, and maybe you've torn it. And you have this like very concrete injury, you can feel it, it hurts really bad. Someone can take an x ray of it or an MRI of it, right usually kind of see it, but usually don't have to get imaging for it. But you know what I'm saying? It's obvious, if you were in the middle of training for a marathon, and you tore your hamstring, you'd probably stop and you'd probably go, you should go to physical therapy, they're gonna give you strengthening exercises, and they're gonna put you on a return to run program that returned to run program is going to look like jogging on an unweighted treadmill for 10 minutes, and then you're going to slowly get more weight on the treadmill, then they're going to clear you to run outside, then you're going to get clear to run long distances, you're going to be on a run walk program. It's like a very concrete thing, which again, has clinical practice guidelines, it makes it easier, but very concrete thing that we can all comprehend. Because we can all touch and feel our hamstring muscle. But a vestibular disorder, it has the exact same guidelines, like I'm just applying general physical therapy guidelines to movement, but breaking it down with the symptom. Instead of being hamstring pain being this makes me dizzy. And so if I had a patient who had a torn hamstring, even though I always say I don't treat hips and knees, if I had a patient who did that, I would say you need to run for one minute, you need to do a run walk program, you need to strengthen your glutes and your hamstrings and your quads, you need to do all these things and regain the stamina. And then while we're doing this, your marathon stamina is also going to come down, you're not going to be running 26 miles at a time, you're probably going to come back down to like three to five miles and then we can move up to 10 miles and for a runner. That's a really hard thing to comprehend. And whenever you get a runner in the clinic, they'll just keep pushing through pushing through pushing through. And the exact same thing goes for people with vestibular disorders. So breaking down that movement literally being like I think I can sit down and stand up off the couch five times today. Awesome, I love it. That is exercise that counts. I can't even get on my bed today, my head is maybe at an elevated position because supine isn't comfortable. But I can do 15 bridges in bed, right, I can lift my hips up and down or but that counts as exercise. And so I think like taking away the stigma of I exercise to look good, I exercise to lose weight by exercise to whatever, let's exercise for brain health. Like, I don't see what's wrong with that exercising is one of the best things you can possibly do for your brain releases happy chemicals, brain derived neurotrophic factor, it increases muscle mass bone density, like it does everything, and it's for your brain, we need to be exercising, even if it makes you dizzy. And the exercise though should be sub symptomatic. And so that's kind of how I go about this explanation of how important it is. But also it can be used in a rehabilitative sense. And it can be used in a preventative sense. And hopefully that makes sense.
Cynthia Ryan – VeDA 
Yeah, so start small and stop before you trigger your symptoms, stop,
Dr. Madison Oak, PT, DPT 
quit while you're ahead is what I always say in vestibular group fit classes and like quit while you're ahead. There's nothing wrong with that, kind of learn your threshold and start smaller than you think everyone's like, well, 30 minutes won't bother me. And then they're like, Well, I'm dizzy for two days after start with literally four minutes. Like there's nothing wrong with that at all.
Kimberly Warner – Unfixed Media 
And frame it as you're working out for your brain. I just love that. That is such a different approach than what we are conditioned to think of. So thank you for that. Awesome. Cynthia, I know you, actually. Well, I'll just jump in. Because this is interesting to me. And Stephanie, you mentioned that you were doing one on one for a while. But then there's this whole group fit. workout that you do. Dr. Madison, can you tell us a little bit about that, and what sort of options there are within that.
Dr. Madison Oak, PT, DPT 
So Stephanie can speak to this too. She was actually one of the original group members. She was a member while she was a one on one patient. There's over 300 people in vestibular group fit at this time of recording now. And so there's quite a few people. And basically, it's really hard to find vestibular therapy with vestibular therapists that are actually know what they're talking about and will focus on your function. And so as I would have these patients back in New York, who would come back to the clinic or need to see me for years or they'd say, Well, I stopped moving, I stopped exercising because I didn't think I needed to and non dizzy again or whatever spectrum of things people would need. They would say, Well, I'm dizzy again. What do I do and so I was like, well, we need an off ramp from VRT. Clearly there needs to be something that like sustains this, that isn't VRT and on to pay someone a couple 100 bucks a week to go to where you can also ask for support. If you're happy in the middle of a flare, understand what you're going through, especially if you don't have a therapist nearby. And then just who focuses on movement and makes like movement feel normal. So we have six or five different coaches in vestibular group that who teach between seven and eight classes a week. They range from Tai Chi to yoga, Pilates strength training, cardio, return to run yoga, Nidra, which is a meditative practice. And we have a new pots protocol that supine and seated now for people with VM and pots. There's all kinds of movement for all kinds of people. And it's so important to move your body and that's where vestibular group fit started. And then we sorted the educational component which goes from like, how do I do a specific task to what the heck is vestibular migraine? How do I manage three PD? So there's over 40 Something modules at this point about different things that you would want to know that maybe your doctor, your physical therapist doesn't have time, or maybe the knowledge to explain to you it started because someone said, I don't know how to put my head down when I'm cooking and use a knife safely. Can you help me with that? And I was like, Oh, I can make a quick educational video about this. And that one's still up there today. But it ranges from everything from tasks like driving and cooking, to what is Visual vertigo. And again, like there's a 90 minute lecture on what vestibular migraine is in like non jargon terms. So all of that is really important. There's a support group aspect that does not focus on this is so bad. This is what's happening to me today. I just need to rant and there is a space in there to rant and to feel frustrated. There's a good chat room for it. But most of it is I'm having trouble with this. How what do I do in this scenario? Like how do I return to work? How do I do x, y, z? What are some things I this happened at work today? What are some modifications I can ask for what are some modifications I can do? So it's very like Question and Answer focused and then of course focusing on wins and things. Hey, I did this cool thing this week or I went on a hike and I didn't need a walking stick or I went on a hike with my walking stick or kind of whatever that looks like for you. And however you can celebrate like the small things that we don't think about because I that It's so important to recognize like, last year, I couldn't do this. And this year I can do this. But like, everything in between is you live with yourself every day, right? It's sort of like weight loss where people don't notice they're either losing weight or maybe even gaining weight because you live with yourself every day, right? So you don't notice changing of symptoms, not that a vestibular disorder and weight loss the same at all. But like, it's one of those things where you live with you every day, you have this like, stalemate of like, this is my life now. And you don't really recognize when someone is when you yourself is improving, which is why it's also important. This is something Stephanie I talk a lot about is an Stephanie can speak to that where someone telling you, Hey, you did this, or I have record of you doing this. And that's a really important thing as well. So this nebula group that really hones in on all of those things. And it's a very affordable comparatively to vestibular therapy, which can cost you 1000s of dollars a month, at $55 a month at this time. So it really is the most, I think, affordable thing on the internet that I've found for managing Vestibular Disorders and focusing on this in a comprehensive, really, like flexible way that works with you.
Cynthia Ryan – VeDA 
Stephanie, can you, you so you've participated in vestibular group fit as well as the, you know, one on one therapy with Madison, can you tell us what your experience was like, and what you found particularly useful for this, you know, virtual interactive in a group sort of therapy? Sure.
Stephanie B. Looney 
So it was just like Madison said, a great off ramp from private patient visits, which were weekly this, the platform Madison has developed is really unbelievable, and I've never seen anything like it, which is to say that, for example, each day, as vestibular patients, we kind of assess ourselves right in the morning, is today going to be an OK day, maybe a little bit of a rougher day. So there's, there's constant reframing, I think, for me as to what I can get accomplished, etc. And what I love about group fit is that I can go on to the website and based on how symptomatic I am, I can pick movement of, of a multitude of kinds based on how I am feeling so for example, yesterday was not such a great day. For me symptomatically so I felt dizzy er than normal, I had some some neck pain, and I was able to go on group fit and and select something that I know is more gentle, and, and is personalized to me and and wouldn't necessarily put me in a worse state. And, and that knowledge and understanding has come from Madison who and working with her throughout the last year and a half of changing my mindset of we don't need to work out for 30 minutes, like like Madison said, this might be five and it might be soft, gentle movement stretching, ballet, which was recently added, which I love. So again, just this beautiful pairing of Stephanie's definitely today and she's feeling this way. And here are the things that she can can select from, I think is just very unique in in the vestibular community. And then just to echo Madison's comment about community, because we're all they're doing the same thing or having the with the same purpose, which is to try and move and and feed our brains with movement. The interaction between other vestibular patients, and that sense of community is really really wonderful and helpful. And and while you're in group fit, you can communicate with Madison, I don't know how she can keep up with all of that but between social media and group fit and her patients, but if there is something that doesn't make sense, or if there's a movement that is not, you know, working, there's always room for adjustment and modification. And I think as a vestibular patient that's one of the biggest lessons I've learned which is I have to be flexible and I have to learn how to modify all the time and I'm not great at it but I keep trying. And Madison one more thing about about this kind of finding this perfect fit of patient and and you Professional and it's so important that your therapist, your vestibular therapist can remind you of how far you've come because there are plenty of days where I'm sure Madison can agree, where we would get on, you know, for a physical therapy appointment, and I was just not in a great mindset. And she would say, Okay, it's totally This is okay. It's okay to not be okay. But let me just remind you, what we talked about eight months ago. And so there's clarity there from someone who, you know, from on the outside looking in, and I think it's just part of a really good patient. professional relationship.
Cynthia Ryan – VeDA 
Yeah. So Madison, can you this type of, of, you know, remote group therapy? Is it appropriate for all of us to Bueller patients? Or is it you know, it fits into one stage of your recovery? Great
Dr. Madison Oak, PT, DPT 
question. So I actually have found that it is effective and helpful for people at every stage. So we have people who have been on different medications for vestibular migraine, let's say for years, they're feeling pretty stable, but they need help like reintroducing exercise into their day to day life. And then I've had people who live super, super rural lean, who had the stimulator neuritis turned into vestibular migraine have no access in their state, they feel like or haven't been able to find via telehealth to this tubular rehab. And they're just like, help. I don't know what to do. And I'm like, I can't give you medical advice. I will never give you medical advice in there only educate you. But you can come and try this. And I've had on more than 10 occasions, someone in that scenario, who is able to help you do have to put in a little bit more work on the front end, I would say because you have to kind of do the research yourself, which can be hard, but I will always refer you to the resources that you probably need based on what the information you give me. But yes, there is definitely a real space for everyone. No matter where they are on their vestibular journey. No matter if you got diagnosed yesterday, you don't even have a diagnosis yet. You are in VRT right now and you want to do this other kind of aspect. And I find it's helpful for everyone, whether it's in the support phase, or it's in like they just want extra movement with VRT because people who exercise statistically are less Dizzy than people who do not exercise like in the research. And so if you can do VRT at the same time, as you have like a workout class you can stick to both those things together are incredibly effective. So because there's the educational piece, if you if you don't have a diagnosis, we have like information about every single diagnosis that's super, super thorough. So you can be armed with the information to give your doctors like we have had so many comments in the group that say, My neurologist doesn't believe me, but I went armed with your PDFs, and now I have a VM diagnosis. And so it really is there's a space for everyone. And it is the most loving, supportive group of human beings I have ever seen in my life. People are like, I walked to the mailbox today and people like, Heck yeah. And be like, I want an idea if you'd like yeah, like it's like the most hyped up like excited about like getting to do more functional things. Or if you're not having a good day being like, Hey, I'm having a really hard time. I need to rent to someone, I need help with this, and you help with the mindset aspect of it. And all those things combined are so important. And that's kind of what vestibular group fit is around.
Kimberly Warner – Unfixed Media 
I can think of half a dozen people that just in the last week DM to me and said I'm struggling. I need help. What do I do? I know exactly where to send them. Now, this is like such an incredible resource other than VeDA. But I want to know, Stephanie, since you've really you've been through this now and probably had a lot of setbacks and challenges through it. What sort of words of wisdom would you share with the person who feels like Nope, this is I'm too dizzy, can't do the movement. I'm not going to start an exercise program. This isn't for me, what would you say to them?
Stephanie B. Looney 
Well, first of all, I would say I feel you I was there. You're not alone. This is very, very difficult and extremely challenging. So i i First and foremost would say there should be no shame or guilt attached to the way that you're feeling. You know this condition. Conditions can be very challenging. And yet these small movements even if it's something like getting up off the couch and going to the to the kitchen can be so impactful and Over time, it gives you a sense of confidence a sense of, I'm doing something for my vestibular health. And and that is so impactful for mental health, for physical health for vestibular health. So I would say, yes, starting to move, again is scary. It can be intimidating. But those small movements create a foundation over time. And it gives you back some of the confidence that these conditions can constrict you have. And you don't have to do it by yourself. I mean, that's the great thing is that through group fit or other communities like vida, there are a group of people that will move with you, and it may look different than your previous movement has. But it still counts. And, you know, taking one step at a time, as cliche as that sound is is literally what we have to do sometimes as as vestibular patients, and and to celebrate those wins is huge and important.
Cynthia Ryan – VeDA 
But you have, I don't know how many little gems in there one step at a time, celebrate your wins. Like I
Kimberly Warner – Unfixed Media 
did great for business. If you want to do another business, one step at a time.
Cynthia Ryan – VeDA 
But truly, I think I think everybody can relate to that. Thank you. Thank you for sharing your story. Stephanie and Madison, thank you for sharing your passion for the stapler, therapy and also for movement. Thank you both for being here today and sharing your your experiences with us. Thanks so much. Thank you. Thanks for tuning in to ICU this month.
Kimberly Warner – Unfixed Media 
We hope this conversation sparked a new understanding of the vestibular journey. And for all of our patients out there leaves you feeling just a little more heard. And a little more seen. I see