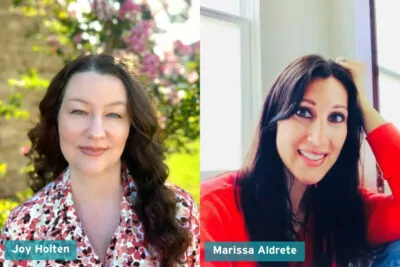 Volunteer(s) of the Year 2023
It is with great pleasure that VeDA announces its Volunteer(s) of the Year for 2023. VeDA is a grassroots organization, and our volunteers are at the heart of what we do. This award is selected through a voting process by their peers – other VeDA volunteers, and recognizes the outstanding contributions of individuals who have dedicated their time and energy to helping others with vestibular disorders.
2023 Winners
VeDA is happy to honor joint-nominees Marissa Aldete and Joy Holten who have gone above and beyond in their service to the organization and the vestibular community.
Marissa and Joy co-host the podcasts "Finding Joy in your Vestibular Journey and "Vestibular Voices" and have also been guests on other podcasts. Marissa and Joy facilitate a support group, and were instrumental in helping to create a presentation to help onboard new VeDA Ambassadors. Marissa is part of the cast for season 3 of the Life Rebalanced Chronicles, and Joy was a guest on VeDA's new ICU podcast.
Top Volunteer Nominees
As we recognize the winner of the Volunteer of the Year award, we also want to acknowledge the outstanding efforts of all the nominees. Thank you to each of the following individuals who have gone the extra mile to support VeDA and the work that we do.
Lynn Johnson – Lynn is a long-time VeDA Ambassador who has spread awareness as well as her faith through the vestibular community. Lynn serves on VeDA's Community Support and DEI committees, and recently joined the VeDA Board of Directors. Lynn co-leads a Facebook group for Autoimmune Disorders, and participates as a regular member of VeDA's East Coast time zone support group. You'll also recognize Lynn from the first season of the Life Rebalanced Chronicles.
Laura Cala – Laura is a VeDA Ambassador who really shines during our Life Rebalanced Live conferences, where she moderates our patient panels and does an amazing job bringing those conversations to life. Laura hails from Australia, where she actively advocates for vestibular awareness. Laura also recently joined VeDA's Board of Directors.
Karen Mizrach – Karen does a lot of very important work in VeDA's back office, where she writes tips & tools articles for our newsletters. Karen served on the Life Rebalanced Live conference committee, and has recently started an online support group for vestibular patients who live alone.
Johan G. – Johan is a VeDA Ambassador and a representative of the Spanish-speaking vestibular community, where he leads a WhatsApp group for Spanish-speaking vestibular patients. Johan's YouTube channel, "Find Your Chappiness," features 96 episodes of "Vestibular TALKS," where he interviews vestibular patients and healthcare professionals in both English and Spanish. Johan was also a cast member on season 1 of the Life Rebalanced Chronicles.
Yannis Benaniba – Yannis started ADeV, a French chapter of VeDA and has led a team of volunteers who translated 14 of VeDA's top articles into French. Yannis and his team also manage a Facebook group for French speaking patients. In addition, Yannis is a cast member for season 3 of the Life Rebalanced Chronicles.
Volunteer with VeDA
If you have skills and passion that you would like to share with the vestibular community, please consider joining as a volunteer. Every hour you spend with VeDA has a huge impact, bringing us closer to our vision of a global community where vestibular disorders are widely recognized, rapidly diagnosed, and effectively treated.