Live life to the fullest and focus on the positive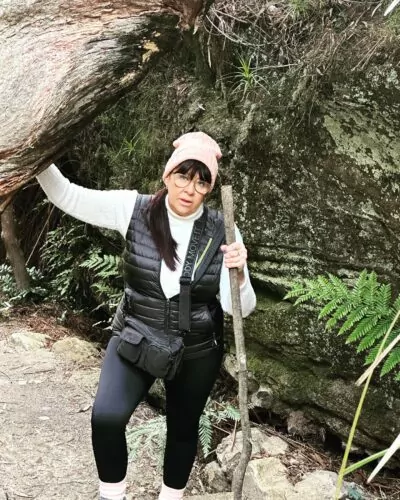 This is a long story of a journey into a world of unknown which she is still very much on and one nobody ever expects to experience It's Jan 22nd 2023 and we are about to land in Denpasar for my very first time in Bali.
Looking forward to making many memories and taking photos of the beautiful Sunsets and Sunrises, and relaxing on a very long over due holiday!
As we were making our way through customs I began to get a headache one which I'd never had before, as this seemed to come with pressure that was located in the back of the head!
Thinking it possibly could be from tension, I took paracetamol and we made our way to our guide who was taking us to our accommodation we were staying in Nusa Dua
24 hrs after arriving I was still experiencing a headache and it wasn't going away!
Despite the headache I still managed to do a little sight seeing and a few days after I visited a day spa in the hopes it may relieve what I was thinking was tension !
The day now was Tuesday and we had plans that night to visit Jimbaran Bay and catch a beautiful Sunset and enjoy a feast of seafood .
At this stage my headache had started to ease slightly and we were getting ready to get picked up by our driver.
We arrived at Jimbaran Bay it was amazing we got our seats and I made my way down to the shoreline and began taking photos of the most stunning sunset I had ever seen
20 minutes had passed so I made my way back to the boys I was feeling great as the massage I had seemed to have relieved my headache finally ( so I thought )
My recollection of what happened next is a little foggy :
As I went to sit down I felt a little weird as a nauseous feeling began, and as I looked up the beach definitely did not look like it did when I was standing on the shoreline taking photos it seemed to have flipped upside down and began to spin uncontrollably I grabbed my partners arm and said we need to get to a bathroom I don't feel so great, as I tried to stand truly it felt like an out of body experience my body had become weak my sight and senses all became muffled and I certainly wasn't in control of my body from then on my memory of the car ride is very limited as all I remember is scattered sounds and feeling very sick
Thank goodness our new balinese friend Wayan made the decision to take me to BIMC hospital in Nusa Dua as now I had lost the ability to walk my vision had changed and my speech well words just wouldn't come out the way they were supposed to !
I was so scared we were in a foreign country and I had never experienced anything like this in my life before
Timing arriving to the hospital couldn't had been any better as I started throwing up and the spinning definitely had got worst and my speech well no words were coming out of my mouth at all now !
I was given medication and whatever it was I was extremely grateful for as I slept for hours apparently!
I remember waking up vaguely and seeing the boys standing at the end of the bed with a Doctor and hearing the words I could go in a few hours and from then on it's all a nightmare and a scary one
Time had passed by it was time to go and as I went to get up all I remember is I knew what I wanted to do but there was ringing in my ears my vision was so weird and my legs well they would not move I couldn't walk
And that's all that I really recall as the next few days I was laying in a Bali hospital being looked after amazingly and treated by neurologist Dr Garcia and thank goodness the cocktail of medications I was on were helping I was no longer feeling sick but I did notice my vision well it was weird and I had what seemed to be a very weird tremor and l had lost the ability to walk and felt like everyone and everything was constantly moving it was so terrifying I just wanted to go home.
It was day 3 in hospital and I was transferred to Denpasar by ambulance for an MRI where Dr Garcia was waiting for me she touched my hand and told me I will be well looked after and to relax as by now I was truly scared everything I knew as my normal life was and didn't seem to be so normal anymore it was weird dark and very scary
RESULTS of the MRI had shown a possible brain bleed from a lesion known as a Cavernoma and it's location was tricky as it was situated close to the brain stem I was totally numb I wanted home my children my parents my friends and my pets.
2 weeks passed laying in hospital as arrangements were being made for me to be medically evacuated at of Bali and into a Sydney hospital for what we we're believing was possible surgery ?
During the 2 weeks in a Bali hospital my brother and sister in law flew over to support us, during this time I was being looked after unbelievably our new Balinese friends were sending flowers slippers and Wayan our driver visiting always and I will always hold a very special place in my heart
From what I know everything went smoothly for my evacuation and the day arrived to finally get back home to Sydney although not knowing what was ahead ?
The outcomes were nil surgery as it was deemed to dangerous to operate as I could end up worse off and so the testing began and oh my gosh many very unpleasant as my symptoms seemed to worsen or maybe I was coming slightly out of the acute phases but whatever this all was shouldn't be and knowing now the pieces to a puzzle!
It has been a long hard road but I am very blessed to tell my story –
I had a lot going on and many many months spent in a rehabilitation unit it's now 7 months and I am still attending rehabilitation as I had to retrain my brain and body to enable me to walk again it's not easy and I continue pushing through the
• Vestibular neuritis
• Central Vertigo
• Nystagmus
• Double vision blurred vision
• Ringing in the ears
• Anxiety's due to fear it will happen again
• Nausea
My world our world for those experiencing similarities is different it's challenging but I truly appreciate being given that second chance to live and bring awareness to this debilitating condition and I am forever grateful for my Balinese medical team and friends who took such great care of not just me during that dreadful time but also my family, and of cause my multi disciplinary team here in Australia
* She awakes not knowing how the world will look to her today, she has learnt to block out all distractions and continue walking that path forward as life is a gift and one that she unwraps daily as she makes the most of her gift 💝