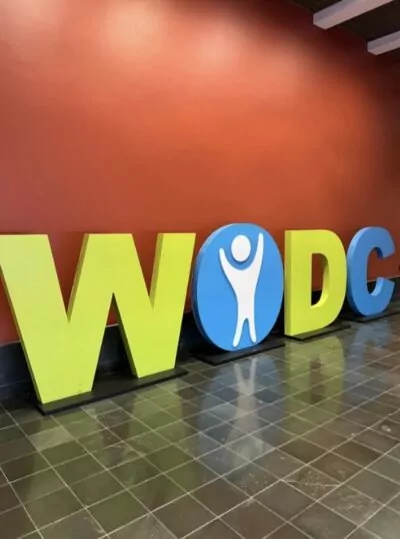 When the Vestibular Disorders Association (VeDA) inquired about my availability to represent their organization at the 2022 World Orphan Drug Congress (WODC) in Boston, I enthusiastically accepted the invitation. Due to my direct vestibular patient advocacy work with VeDA, as well as my personal experience as a rare disease patient and professional career in rare disease pharmaceutical advertising, the WODC's topics and points of discussion closely resonated with my own values, experiences, and insight. Coordinated in part by the National Organization of Rare Diseases (of which VeDA is a member), this yearly congress brings together top pharmaceutical and biotech companies, government and regulatory authorities, patient advocacy groups, payers, investors and solution providers to discuss rare disease treatment and therapies for patients, including updates on their ongoing advancements and improvements.
Discussing the Importance of Mental Health in Rare Patients
While assessing the WODC's 2022 program, I was particularly drawn and inclined to attend sessions that highlight mental health in rare patients and their caregivers. Most topics of discussion in the rare disease space center around new drugs and treatment options available to patients, resulting in a significant deficit in crucial conversations about the journey to diagnoses' impact on rare patients' own mental health, as well as that of their caregivers. This led me to join a session called, "Mental health support for rare disease caregivers, patients and professionals: examining barriers and opportunities to advance emotional care, education and accessibility."
During this session, we heard from a lead pharmaceutical executive about the lack of mental health research in the rare disease community, and her company's resulting initiatives to directly address this care deficit for rare patients outside of drug treatment. Rare patients and their caregivers may face many more unique challenges and obstacles than a "typical" patient when looking to find a diagnosis. She shared information about a program called "Raregivers," a mental health initiative for caregivers, patients and professionals, that their company and other large rare-focused companies have implemented to assist patients and caregivers with accessing mental health treatment before, during and after diagnosis. From my personal experience as both a rare patient and rare disease pharmaceutical advertiser, this initiative is exactly what is needed and wanted from companies who support rare patients – functioning to treat the whole patient, rather than physical symptoms only.
After embarking on my own rare patient journey, I fully understand the toll that finding a diagnosis can take on one's own life, as well as the lives of those around us. For me, one life-changing surgery was all that was needed to aid 90% of my symptoms – but I know that most vestibular and rare patients aren't so lucky. The incessant uncertainty and relentless concerns that plague rare patients can have a significant, negative impact on their mental health. Caregivers, too, feel strain on their own mental well-being and are often stricken with PTSD and anxiety from worrying about their loved ones' mental and physical health. For this reason, treatment for rare disease patients cannot and should not cease when a patient starts a certain therapy, drug, or has surgery. The initiation of treatment is often just the beginning for rare patients, who may find that they need counseling, therapy, and emotional support for their mental health at the onset of their physical symptoms. Acknowledging and actively addressing the mental health component of a patient's rare disease journey through initiatives like Raregivers will change the lives of countless patients and their caregivers, and it is my hope that more companies show what they are doing and will continue to do for the mental health of their rare disease patients at next year's World Orphan Drug Congress.
The topic of mental health carried through the entirety of the three-day conference, and it was heartening to see this crucial, and often overlooked, aspect of a patient's journey recognized and discussed by top leaders in the rare space! In addition to conversations centering on mental health, I attended many other sessions that highlighted new therapies and drugs available to patients and discussed companies/advocacy groups' efforts to help patients more easily obtain access to care.
Attending this insightful and inspiring conference has reignited my passion to continue my advocacy work with VeDA and ensure rare patients have recognition, representation and their voices heard in the rare space. I am so grateful to have had the opportunity to attend the 2022 World Orphan Drug Congress and connect with individuals who collectively share the same goal: to better the lives of rare patients.
By: Stefanie Adams, VeDA Ambassador