We share a common goal: serving the vestibular community.
The Vestibular Disorders Association (VeDA) can deliver your message to:
Vestibular patients and their support networks of family and friends
Vestibular healthcare professionals: physicians, surgeons, physical therapists, occupational therapists, audiologists, vision specialists, and students of those disciplines
Healthcare centers, hospitals, and clinics
Nonprofit partners
Professional associations
Connect with Our Community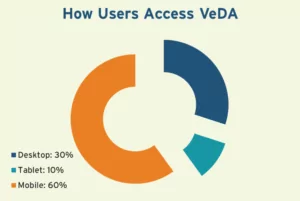 VeDA connects with its community across a wide variety of platforms and channels - online, in print, and social media.
For the best results, please keep the following suggestions in mind:
Symptomatic vestibular patients could be using screen readers and/or blue-light blockers, and may be sensitive to images with visual distortion.
Content should not be too text-heavy since scrolling can be difficult for many vestibular patients.
Text should be easy to read and understand. Avoid jargon.
Colors should have adequate contrast against backgrounds.
Online images should include short, descriptive alternative text.
VeDA may request alterations to ensure the best user experience.
Getting Started
Contact [email protected] to start the sign-up process.
VeDA also offers annual and event sponsorships.
Legal Disclaimer: Per IRS rules, to maintain 501(c)(3) nonprofit status, all ads will be marked as "paid advertising" or "sponsored."