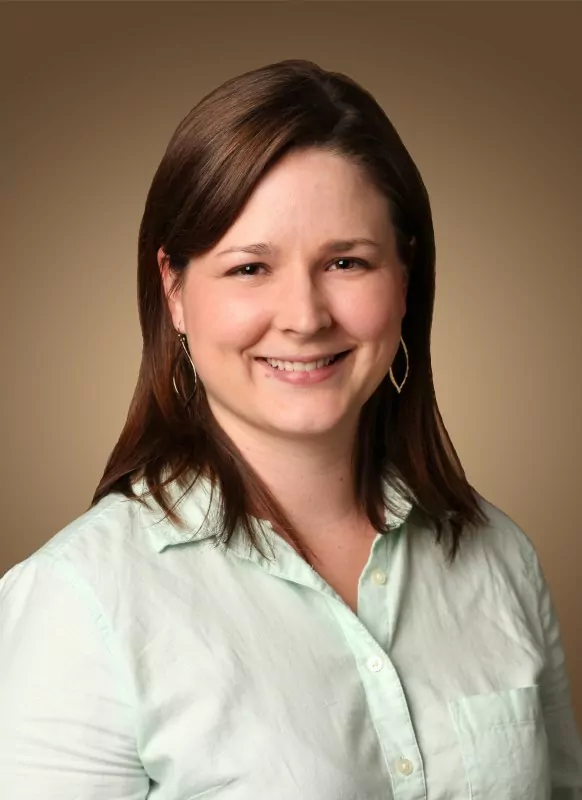 Dizziness symptoms can be difficult for patients to describe to family, friends, or healthcare providers. Similarly, it can be difficult to identify and discuss factors leading patients to unsteadiness and falls. Inconsistent language used to describe a fall is a barrier to developing and practicing falls prevention techniques.
Falls are a common problem with sometimes significant health consequences. Therefore, preventing falls that lead to significant injury is an important challenge to address for unsteady patients. Researchers work to face this challenge by creating standard descriptions for falls, identifying health factors contributing to a risk of falling, and analyzing current falls risk screenings.
The World Health Organization has established the definition of a fall as: "an event which results in a person coming to rest inadvertently on the ground or floor or other lower level."1 Taking this definition, researchers at Johns Hopkins created an illustrated 4-point scale to describe and categorize different types of falls. This includes: 
A near-fall
Falling to a lower level without medical attention
Falling to a lower level followed by medical attention, and finally 
A fall to a lower level followed by hospitalization.2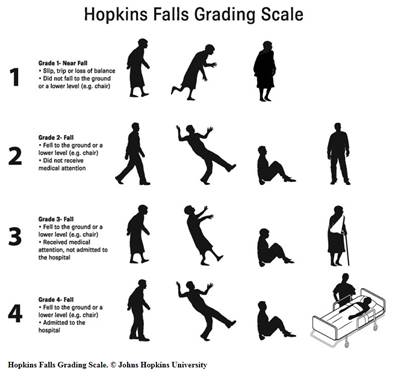 Providing concrete details to further divide the WHO definition into these four steps is important. These distinctions help providers determine when a patient "fell into a chair" that they experienced a "grade 2" type fall, rather than a more severe fall. 
Additionally, by designing a visual scale to accompany written definitions, patients and family members have a standardized scenario to compare with their incident. This enables accurate discussion between the patient and provider about the falls a patient has experienced, which may subsequently help determine which treatments best promote patient mobility, independence, and safety. Continued research is underway to further validate the use and application of this scale.
Another step in preventing falls is identifying factors that contribute to a patient falling. Current research focuses on internal factors or health conditions that can determine an individual's fall risk. This often requires a comprehensive evaluation for musculoskeletal, visual, cognitive, hearing, or vestibular impairments. 
However, one group of researchers is developing an at-home falls screening that patients may use before undergoing comprehensive evaluation. The 'Aachen Falls Prevention Scale' contains ten yes/no questions, a timed test evaluating how long a patient can stand still, and a self-rating assessment to help the patient decide when to contact healthcare providers for further evaluation.3
These criteria may help patients and/or primary care doctors determine if imbalance puts a patient at risk for falling or necessitates further evaluation. The components of this scale were chosen based on previous research; however the scale must still undergo field testing to determine how reliable it is for assessing falls risk.
Future research may work toward another difficult goal: helping patients accurately identify external or environmental factors leading to a fall. This is a challenge as observers may not be present to see the cause of a fall and likewise, patients may not see or know what precipitated falling.
REFERENCES:
WHO global report on falls prevention in older age (2008). Geneva, Switzerland: World Health Organization. ISBN: 978 92 4 156353 6
Davalos-Bichara M, Lin FR, Carey JP, Walston JD, Fairman JE, Schubert MC, Barron JS, Hughes J, Millar J, Spar A, Weber KL, Ying HS, Zackowski KM, Zee D, & Agrawal Y (2013). "Development and Validation of a Falls-Grading Scale". Journal of Geriatric Physical Therapy, 63-67. 
Pape H, Schemmann U, Foerster J, & Knobe M (2015). "The 'Aachen Falls Prevention Scale' – development of a tool for self-assessment of elderly patients at risk for ground level falls". Patient Safety in Surgery, 1-6.
*Many thanks to Johns Hopkins Technology Ventures for giving us permission to reproduce the Hopkins Falls Grading Scale.