Change the Plan, Not the Goal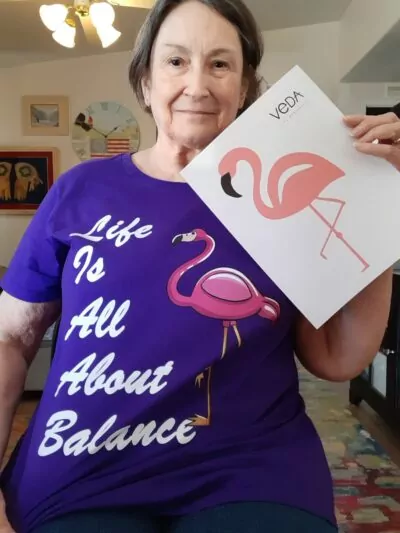 My journey started at age 27 in 1986. I had an emergency medical procedure following a miscarriage. When I got home to my 3 year old daughter and husband the migraines started. My first diagnosis was postpartum depression and I knew it couldn't be right. I had a reprieve for 9 months while pregnant with my second daughter, then the migraines were back. I'd worked full time and eventually had to quit.
The impact of my illness on my children was made quite clear when my youngest brought home a Mother's Day project from 1st grade. It said "I love my Mom because she plays with me even when she has a migraine". Sad, but true.
Over the years, treatment included opioids, antidepressants, antiseizure medications, and pure oxygen. Finally, Imitrex was approved for use. I was in my pcp's office with a headache and he wanted to see if the Imitrex would work . The injection worked in 50 minutes and the diagnosis was chronic migraine.
In 1998, I underwent a hysterectomy due to endometriosis. With a steady dose of hormone replacement therapy the migraines became less frequent. With Imitrex at hand, I was able to work again for the next 8 years.
During the last 2 years at work, we started having forest fires nearby. I developed asthma and soon after I found myself touching walls or coworkers desks as I navigated the office. Next, I started falling asleep at my desk, in the break room and at lunch. I was diagnosed with narcolepsy, then sleep apnea. After using a CPAP machine for a full year without improvement, I was referred to Neurotologist Dr. John Epley. I spent two weeks testing and was diagnosed with bilateral Meniere's Disease and Vestibular Migraine. I left the workforce for the final time in 2006 and later awarded SSI Disability. Shortly after, I was diagnosed with fibromyalgia and arthritis.
Botox helped the migraines for several years. When the new self injectable preventives were introduced, we gave each a long trial. In January 2023 it was clear that the majority of migraines were vestibular and did not respond to medication meant for migraines originating in the brain. Imitrex is still my go to if I can identify a brain centered migraine starting. My vestibular migraines are not nearly as painful now, but do come and go numerous times daily. Typically, I take compazine and ibuprofen. Occasionally, I just have to lie down for awhile.
Bilateral Meniere's means I'm not a candidate for chemical or surgical destruction of the vestibular nerve. Life with Meniere's includes hearing loss and tinnitus, I'm on my third pair of hearing aids. I list to the side when walking , have extreme difficulty navigating in the dark. Difficulty reading (words start moving on the page). Drop Attacks happen infrequently. Nystagmus leaves me exhausted by about 2pm on a regular basis. Depression and anxiety as well.
Last year a diagnosis of peripheral neuropathy was added and I became the owner of a Fold-N-Go power wheelchair. I get around my house without a wheelchair, but, I enjoy the ability to go with my husband when he walks our dogs and other places requiring a lot of walking.
Recent cataract surgeries pushed vestibular migraines into overdrive. The adjustment to the vision correcting lenses is still (4 weeks after second eye) somewhat challenging because my depth perception is so different. Vestibular.org has a good article about cataract surgery.
I have great hope for anyone with vestibular problems now. Help is within reach, but you must still be your own advocate. So much the better to have someone close to you be an advocate for you by attending appointments, do online research and help keep track of symptoms and notes for you. Counseling is helpful and allows your family a break.
My husband is a blessing to me. Not only does he take time off work to take me to appointments, he now cooks and does most of the housework.
Less seems to be best for me when it comes to medication. Side effects confuse things more and makes it harder for me to listen to my body. I do take vitamin supplements regularly. Quality sleep is key.
I should note that living in Southeast Oregon makes it difficult to get the help I need. Help is 6 hours away in Portland. My neurologist repeatedly sent referrals to Oregon Health Sciences University without response. We just found H. Harold Kim, MD, Otology & Neurology that sees Meniere's patients and plan to get a referral.
We still make plans, although they don't always work out. Flexibility is a must. Often times I've found myself in a family members bed during the holidays. I have a walker, wheelchair and a cane at the ready. As a wife and grandmother I'm not giving up, just staying safe with the tools available to me.
It's ok to change the plan, not the goal.