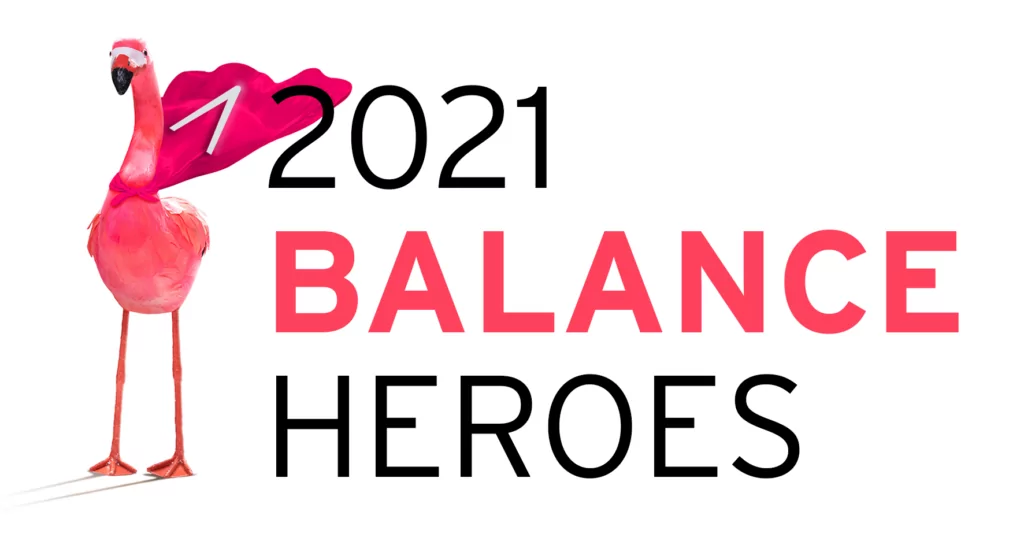 This Giving Tuesday, VeDA recognizes the heroes who go above and beyond in the assistance of people living with vestibular disorders. The vestibular community is full of caring, dedicated family members, friends, loved ones, and healthcare professionals who support people living with debilitating vestibular dysfunction.
Thank you to everyone who nominated their hero(es)–and to the heroes, thank you for your tireless support!
Read below about this year's heroes. (Nominations have been edited for length, clarity, and identity.)
---
I nominate Ivan Nekrasov to be a VeDA Hero for going above and beyond in taking care of me and our family for the past 12 years. He has driven many miles, cooked fabulous meals, gone hiking with our kids, maintained our home, taken care of his health, all while working in his own full-time job. His dedication and perseverance are worthy of this honor.–Rachel N.
---
For the past 11 years, I've lived with a vestibular disorder. Over that time, my wonderful mother has been my staunchest support and strength. She has listened, empathised, and believed in me. She has accompanied me to countless medical appointments, advocated on my behalf, and helped me walk steadily on the long road to a diagnosis. She's done the most incredible job amidst what have at times been bewildering and stressful circumstances for our family. I don't think I would be where I am today without her, and cannot express how thankful I am to have her as my Mum & VeDA Hero.–Alessandra F.
---
Laura Beck is a Rock Steady Boxing (RSB) Coach in Pinehurst North Carolina. She is a Physical Therapist and has earned a Ph. D. in Physical Therapy and is a Certified Dietician. Laura goes out of her way to incorporate exercises into her role as a Physical Therapist facilitator and coach to include and teach exercises which are beneficial to those of us who live with debilitating vestibular dysfunction and impairments. Laura is a role model for healthcare professionals and family members working to better the lives of those with VeDA balance disorders. She is most deserving of this VeDA Hero designation.–Michael G.
---
Dr. El-Feky makes his diagnosis, schedules vestibular treatments, and supports me with redundancy in the face of malicious and deliberately indifferent Medicaid insurance. He is, and his staff are people, of total character and integrity. God bless you all. Prayers.–Thomas B.
---
I am nominating my daughter Shaeleah Whorley as VeDA Hero. She is 20 years old and was in college at Radford University in Virginia. When I got COVID it really messed me up bad. Severe vestibular dysfunction, Vestibular Migraines, MdDS and a host of other health issues that keep me from being a full-time mom to two other kids as well. She had to quit college after her first year to be my full-time caretaker, she is in school full-time again online now after a year break. Seven days a week she fixes 3 meals a day for me, takes care of her younger brothers. Cleans and takes care of chores in the home as well as all of my monthly bill paying. It is a full-time job. She never complains or makes me feel guilty for having to put her life on hold. It's a huge job for a young lady to take on alone. I am so appreciative of everything she does. She is my hero and I am so thankful for her.–Amy W.
---
Since my collapse, hospitalisation and rehabilitation just over 2 years ago and ongoing vestibular migraine since then my young daughter has been my carer. The biggest thing is her constant encouragement and really listening to me with such patience. When I've been ready to give up (often) she has been there to lift me up and take care of my mental health. She has driven me to endless appointments and been in the waiting room. She helps me with personal care when I can't without complaint. The mental struggle is often harder than feeling physically unwell and she lifts me up every day. I am eternally grateful and I know I wouldn't be here or be as strong as I am without her.–Fiona W.
---
It has been very hard to choose between my partner, Peter, and my mum for this nomination. I think both of them deserve a mention in equal measure from me, so really, this is for both of them, but I will put Peter forward first. There are too many situations to list in which Peter has been my Vestibular Hero. When I was first slammed with the seemingly infinite number of vestibular-related symptoms, we were away from the UK, so this made it even more terrifying for us. I could do nothing but panic, and fell foul to some of the worst panic attacks I had ever had – and I didn't really suffer from them before this. There was one situation where I thought I just was not going to get out of one, and Pete got a breathing app up on his phone and made me follow it, exactly. It was the only thing that stopped it. On other occasions, as those who suffer from vestibular disorders will understand too well, I have lost my temper–horribly. Again, Pete has been the one to help stop it. On one occasion, I was so, so dizzy (and at this point, I had been for weeks and weeks on end), I ended up throwing my desk chair across the room in rage (which we decided was quite impressive, given the state I was in). Pete just calmly upended it and hugged me until I stopped crying. Peter has tirelessly researched my condition whilst I have been practically comatose in bed. He has found detailed scientific studies which, ultimately, point to the likelihood that my condition will get better – it just takes time. This has been an extreme comfort to me. He is a very rational, fact-driven young man, so I knew that he was not lying to me. To add to this, Peter drew up a list of consultants we might consider seeing from the Menière's Society webpage – one of which we did go and see, and he confirmed my diagnosis and put me on a robust treatment plan. If it was not for Peter, I would not have had the fortune to be treated by this marvellous doctor.–Delphi M.
---
My son Michael was incredible during the darkest days of the onset of vestibular neuritis. He was caring, understanding and showed patience and maturity well beyond his 19 years. Michael remained supportive to me his mom during vestibular rehabilitation and reaching a level to be able to return to nursing. He still remains a guiding light 3 years later and is there in good days and bad my vestibular hero!–Phillipa F.
---
Jim is my husband. Since being diagnosed with Meniere's several years ago, he has been my knight and shining armor, caring for me through each and every attack. He has had to rush me to the hospital several times, is constantly watchful and on alert, and does whatever is needed to help me during an attack. He is my rock and always so supportive, even when attacks have canceled major plans and/or, have left me in bed for several days. This disease is so scary and unpredictable. I don't know what I would do without him.–Mary M.
---
I would like to nominate my husband, Tyler Chin, who has helped me every step of the way since becoming sick. My first episode was on our wedding day, which came and passed and life went on. But a few days later (honeymoon was already moved due to work), I had a spell at work and he came home from a business trip to me being bedridden. Our first years of marriage were not anything that either of us expected. But I am so grateful for every day that Tyler supports me- from taking me to doctor appointments, understanding brain fog, encouraging me to continue my therapies or work on my recall. He has been there through everything and I am so grateful. He is my balance hero because without him, I would still be a bedridden, depressed shell of a human. With his help ( and that of my doctors), I have regained much of my life back even with a new normal. We finally get to cell rate our honeymoon- after much postponement- this December after almost 3.5 years of marriage!–Ashley C.
---
My husband is my absolute hero, my vestibular support partner and best friend. He has always been by my side when going through all of my episodes. He is understanding, patient and my rock!–Jackie H.
---
For supporting me, praying for me, caring for me, and driving me, to and from, most of my vestibular therapy appointments. Thank you.–Yolanda T.
---
I nominate my husband for his unwavering support he has provided to me for the past year. He goes above and beyond to help me be a better me for myself. He encouraged me to ask questions during testing, rehabilitation, find a support group and continue to not give up. Through his efforts I have found assistance and others to relate to. I am so appreciative of his kindness.–Katie M.
---
My Mum is the hero in my vestibular disorder life. She has supported me over the last three years in every single imaginable way. She fought with me for a proper diagnosis and treatment options. She's taken me to all my doctor appointments. She's stood by me in every possible way. She holds on to me when I can't walk. She is a constant positive and calming force. She has been my voice when I am too sick to talk and fight for myself. I remember us crying together in her car after one of the countless doctor appointments trying to figure out what was happening to my brain and body. She had just told another doctor that no answers were not an option she would accept for me. I had almost given up hope. But her words that day kept me going. She told me that I wasn't going anywhere and that we were going to work out what was going on and fight it. She said she would be with me every step of the way. I needed that strength from her and I continue to benefit from it every day. My Mum makes the world feel lighter for me even amongst the heaviness of this chronic illness. I am healing because of her. There is no way I can properly thank her for every inch of her support over my life but especially in my illness. So if I can recognise her with this award I would love to.–Leora W.
---
For being a carer on a dementia ward as a job, and then coming home and caring for me with MD. for always understanding and NEVER making me feel like I'm acting or pretending, and for accepting such a big change in our relationship without causing guilt.–Colin G.
---
Years ago when my world fell apart and life as I knew it ceased-my husband came across Dan's name trying to find someone who had answers for my vertigo. I had seen multiple doctors and other professionals-and even another vestibular therapist-with no improvement or even hope. Many told me my condition was all in my head because I was a woman going through menopause. To this day some of the things that were said to me-brings tears to my eyes. It was in the second year of our searching for answers that we found Dan-who was an absolute Godsend. By the time I saw Dan I was now full-blown depressed from the anxiety of the vertigo itself and inability to function -plus wondering(as so many had told me)if I really was losing my mind/making this up in my head. Dan was so kind and understanding of what I was dealing with-not only explaining but also showing me exactly what my body was doing and the compensation it was trying to do. Dan assured me that everything I was feeling and experiencing was NORMAL and OF COURSE anyone would feel anxious if their world just started spinning one day! He was the first person who REALLY listened and for the first time in years, I had hope. He treated me with vestibular therapy and referred me to others who have also helped tremendously. I have often thought of writing his wife&kids to let them know when he is at work-how much he is making a difference in the lives of people like me!😊As we all know-having an invisible condition like this impacts not just the individual but all aspects of their life and others in it. Relationships are strained or broken, work & finances strained and isolation becomes the norm. Dan gave me such hope better days would come and although he didn't promise my exact previous function would return-I would be much better than I was currently with appropriate help and support. Thank you & God bless you for being an advocate for your patients and I hope you know how much it's truly appreciated.🙏😊💕–Sandra C.
---
Traci went above and beyond with my care. She has been a PTA for 20+ years and had never dealt with anything vestibular before me. We were dealing with neck pain and stiffness as well as minor dizziness in therapy. As time went on, the dizziness got worse. We got the pain under control but the dizziness would not go away. I was dizzy all day every day. On the day she was going to discharge me due to no improvement in dizziness symptoms, my neurologist had just discharged me as well for the same reason. Traci decided that she could not send me home to start a square one again. She had been suspecting me to have a vestibular disorder and in her own time, she had been researching how to test for and treat vestibular disorders. She stopped my treatment immediately and completely rerouted my therapy session. Within seconds I showed positive signs of a vestibular disorder. Traci pushed me to see a doctor in Columbus who confirmed her suspicions. She continued to research ideas and effectively treated me for over a month with no training, specialty, or certification in vestibular therapy. We got my symptoms down to 2-3 times a week. While in therapy, she introduced me to a vestibular physical therapist who is certified with VeDA. I ended up seeing her in an effort to completely get rid of my symptoms. After about of month of therapy with the new therapist, I became symptom-free for the first time in over a year! Next week make a month with no dizziness! I'm so thankful to have run into Traci. She is the first provider that actually cared about me as a patient and believed me when I said I was suffering. She took the time out of her own day to learn a little bit of vestibular therapy, got me in touch with the right people, and completely turned my life around. She gave me my life back and I will never find the words to say how much that meant to me!–Sierra F.
---
I nominate Ian because quite frankly I was unable to do almost everything when I woke up dizzy then diagnosed with labyrinthitis. He's stepped up and been a huge help every single day especially looking after my horse. He's fine the stable duties and not once complained. We sold our house and he did all the packing and moving whilst ensuring I was fine all the time.–Julie H.
---
Please consider my Balance Hero, Dr. Charles Souliere as a recipient of the VeDA Hero Award. 8 years ago I got very lucky when an emergency doctor treating me for vertigo suspected Meniere's Disease. I remember him telling me "if I'm right about the Meniere's, I know exactly the person who can help you." That person was Dr. Souliere and he has been my hero ever since. Getting the diagnosis of Meniere's was overwhelming for so many reasons but Dr. Souliere's expertise, kindness and patience put me at ease. Over the years, Dr. Souliere was always there for me as my Meniere's symptoms changed, I knew he was only a phone call away. Dr. Souliere always told me, "If you need me, call me, anytime." In today's world, just knowing you have someone you can call on in an emergency is a rare and wonderful gift. In 2020, when I began having drop attacks, Dr. Souliere went from my Hero to my SUPER Hero. When we had exhausted all other options and surgery seemed to be my last hope, Dr. Souliere again came to my rescue. As it turns out, Dr. Souliere is also a surgeon and one of the best in the area. He performed my Labyrinthectomy 6 months ago and my world has forever been changed for the better. As he reassured me it would, the surgery went perfectly and I now have my life back. When someone has spent years of their life helping you, and gives you the incredible gift of restored health, there is not enough you can ever do to repay them. I hope that this, in some small way, can convey the life-long gratitude I will feel for Dr. Charles Souliere, my Hero!–Kimberley M.
---
THANK YOU to everyone who nominated their hero(es) — and to the heroes, thank you for your tireless support!
Please visit vestibular.org/givingtuesday to join VeDA in the global movement of generosity.