June is National Headache & Migraine Awareness Month
In June VeDA partners with the headache and migraine community to raise awareness about what it's like to live with these devastating illnesses, with a spotlight on vestibular migraine.
What is Vestibular Migraine?
Migraine, a disorder usually associated with headache, is extremely common and can cause several vestibular symptoms. Studies suggest that about 25 percent of migraineurs experience dizziness or vertigo during attacks. Vestibular migraine can occur with or without pain.
Common Symptoms
Vertigo
Photophobia (sensitivity to light)
Phonophobia (sensitivity to sound)
Head pain
Nausea and/or vomiting
Common Triggers
Some foods, such as aged cheese, smoked or processed meats, MSG, chocolate, alcohol, fermented foods, etc.
Hormonal fluctuations
Pressure changes
Sleep disturbance
Stress
Treatments
Medication
Vestibular Rehabilitation Therapy
Lifestyle changes
coping strategies
Exercise, such as walking, yoga, and tai chi
Diet & supplements, such as eating whole foods and taking magnesium
Self-care, such as meditation, getting enough sleep, and massage
Learn your triggers and manage them
Patient Spotlights
Sensory Rebalanced
Many people who suffer from vestibular dysfunction are sensitive to light, sound, and visual stimuli. Learning to recognize and manage these sensory sensitivities greatly improves their quality of life. In this video, vestibular patient Rishi B. shares his experience and coping strategies, including yoga, meditation, and use of FL-41 blue light blocking lenses by Axon Optical.

Check out other stories shared by vestibular migraine warriors, and share your own story.
Resources
VeDA Articles
Research
Partners
Migraine-Friendly Recipes
quiche florentine
From The Dizzy Cook, by Alicia Wolf
Ingredients:
1 x

 

9″ frozen pie crust

3

large eggs

3/4

cup

whole milk

1/4

cup

heavy cream

3

oz

chevre (soft goat cheese)

1/2

cup

loosely chopped fresh spinach

1

shallot, chopped

1/4-1/2

teaspoon

kosher salt and black pepper

fresh thyme (optional)

Instructions:
Remove pie crust from freezer and allow it to defrost while you preheat your oven. When softened a bit, poke holes all around the crust with the tines of a fork. If you want your crust to not puff up even more, fill it with pie weights or beans. Pre-bake your pie crust according to package directions (~425 degrees F for 15-20 minutes) on the bottom third of your oven, until very lightly

 browned.

Mix together eggs, milk, cream and whisk until combined. Add goat cheese (crumble with your fingers), spinach, and chopped shallot with kosher salt and black pepper and stir.

Remove pie crust from the oven, ch

ange the temperature to 400 degrees F, and pour in the filling.

Bake for ~50 minutes, until the center is puffed up. It should have just a slight jiggle, not a wave, when you move it around. Allow it to set/cool for about 5-10 minutes before eating. Sprinkle fresh thyme leaves on top.
For full instructions and nutritional information, visit The Dizzy Cook's website.
Blueberry Muffins
Reprinted with permission from The Migraine Relief Plan Cookbook by Stephanie Weaver, Agate, July 2022.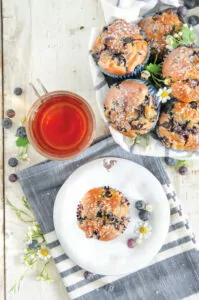 Ingredients:
1¾ cups (260g) gluten-free flour such as Bob's Red Mill 1-to-1 Baking Flour or similar, sifted
1 tablespoon regular or sodium-free baking powder
¼ cup plus 2 tablespoons (60g) coconut sugar, plus more for sprinkling
Stevia to equal 3 teaspoons sugar
3 eggs
½ cup (118mL) whole, hemp, or coconut milk
¼ cup (59mL) olive oil or 4 tablespoons melted butter
2½ cups (375g) blueberries, fresh or frozen
Instructions:
Preheat oven to 425ºF (220ºC). Line muffin tins with 12 paper liners or place silicone muffin liners on a baking sheet.
In a medium bowl, whisk the flour, baking powder, sugar, and Stevia together until well combined.
In a large bowl, beat the eggs with a hand or stand mixer fitted with the paddle attachment for three minutes until thick and creamy. Stir in the milk and olive oil, then stir in the flour mixture until just combined. Do not overmix.
Carefully fold in the berries.
Distribute the batter evenly in the lined muffin tins.
Sprinkle lightly with additional coconut sugar.
Place the muffin tins on the middle rack of the oven.
Bake for 25 to 28 minutes, or until the muffins are golden brown and tops are cracked.
Remove muffins from the tins and cool on wire racks.
(Photo © Laura Bashar, courtesy of Agate Publishing)