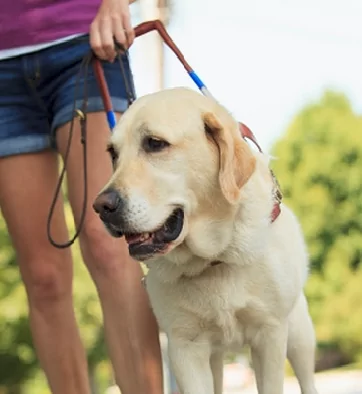 Can a person with vestibular disorder benefit from a service or emotional support dog?
For those of you with balance and anxiety issues, this is a question you may ask yourself. In 2015, service animals are being successfully trained to assist people with hearing and balance disorders. Knowing the difference between the different types of service animals may help guide you toward a decision.
Service Animal
A SERVICE ANIMAL is defined by the ADA as a dog that is individually trained to do work or perform tasks for a person with a disability. This dog has gone through years of intense task based training and qualifies for full public access under the ADA Law.
Emotional Support Animal
EMOTIONAL SUPPORT ANIMALS or COMPANION ANIMALS are NOT service animals under the definition provided by the ADA. These can be dogs or cats, or sometimes bunnies, that provide loving emotional support but are not task trained and thus do not legally qualify for public access rights. Laws were passed, however, to permit companion animals in public housing for elderly and disabled citizens. Check your state laws for information on housing access rules for non-task-trained animals.
Therapy Dogs
THERAPY DOGS are often thought of as service animals but they are not. They do not fall under ADA Law for Public Access and are not task trained to work with their handler. Therapy dogs fall into 2 different categories.
Therapeutic dogs, commonly referred to as "therapy dogs", are the most widely used method of animal therapy. These dogs are trained household companions that, together with their handler, visit nursing homes, hospitals, retirement homes plus many other facilities to offer comfort and joy that can reach beyond traditional forms of healing and medical treatment. The power of a dog can be amazing.
Animal-assisted therapy dogs assist physical and occupational therapists in meeting specific goals or "measured results" important to a patient's recovery. These dogs are used to help anyone suffering from a stroke, physical injury, or trauma. AAT (animal-assisted therapy) dogs and their volunteer handlers team up with trained therapists to use agility equipment and recreational therapy techniques. The end result encourages a patient to regain mobility, strength, range of motion, balance and confidence.
What kind of dog might work best with balance disorder?
Taller dogs such as Great Danes or Retrievers are good options, but any taller breed with the right temperament can be trained to assist with vestibular disorders. These dogs wear a harness that is specifically designed to help their handler with balance support by acting as a counter balance. They also provide assistance in forward motions, going up and down stairs and hills, getting up off the floor or a chair. Your Service Dog Trainer will work with you to figure out the tasks best suited to help you. This dog can also be trained to help with anxiety. Deep Pressure Point Therapy training works well. The dog is taught to use his weight to apply pressure on certain parts of their handler which creates a calming effect.
Now that you've decided that you may benefit from having a service dog how do you get one. There are several options.
Some organizations rescue, rehabilitate, and train dogs for task based service. Then they are matched with an appropriate handler. Some breed them specifically for service, have volunteers socialize them for the first 6-8 months, and then train them for task based service. Some organizations train service animals strictly off corporate sponsorship. There are usually waiting lists for these.
Assistance Dogs International is a good source to find the right organization for you.
Animals Deserve Better|Paws for life Georgia is an excellent organization to work with.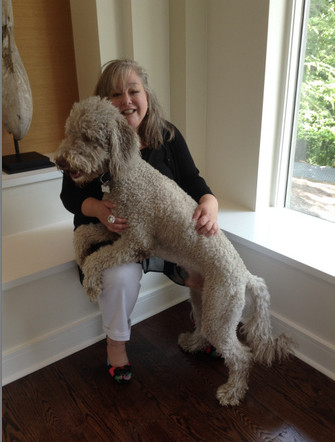 About the Author: Pamela Grossman is an Innovator of Marketing Programs, Print TV and Radio Producer, and Unexpected Expert in Panic Disorder & ADA Law. After developing severe panic disorder, Grossman, faced with a long hard struggle, had to reinvent herself to make her professional environment work for these new circumstances. In 2011, Pamela began working with a service animal who helped her manage her panic attacks. Pamela just completed production on a new training video that is going to help the lives of people with disabilities who have service animals. To read more about Pamela's story go to: www.adalawforserviceanimals.com
Other resources:
How to Get a Service Dog: A Practical Guide
Atlas Assistance Dogs: Helps individuals train their own service dogs.