2021-2023 STRATEGIC PLAN
Executive Summary
The mission of the Vestibular Disorders Association (VeDA) is to support and empower people with vestibular impairment on their journey back to balance.
Since its inception in 1985, VeDA has evolved into a powerful force that informs, represents, and advocates for people afflicted with vestibular dysfunction in addition to the healthcare professionals who serve them.
VeDA also support the families, support partners, and others whose lives are affected, directly or indirectly, by inner ear and brain balance disorders.
Built on three "pillars," or areas of focus that provide a foundation for its mission, VeDA envisions a world where vestibular disorders are 1) widely recognized, 2) rapidly diagnosed, and 3) effectively treated.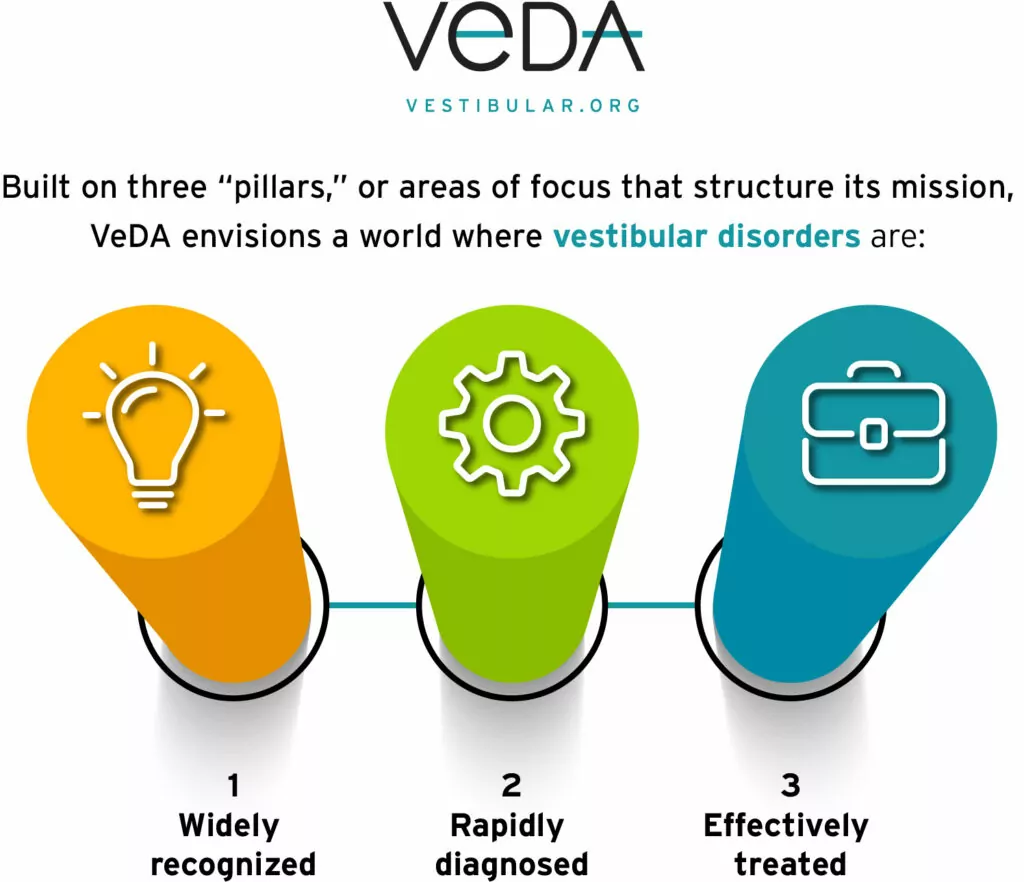 It is estimated that as many as 1 in 3 adults aged 40 years or older in the United States—approximately 69 million Americans—have experienced some form of vestibular dysfunction, yet vestibular disorders are not widely recognized or understood.
Therefore, VeDA's first goal is to expand our community of patients, healthcare professionals, and support partners who are knowledgeable and mutually supportive of available diagnostic, treatment, and management processes, so that people affected by vestibular dysfunction can return to balanced, productive lives.
Second, VeDA seeks to expand awareness of vestibular disorders through public outreach and educational resources. VeDA maintains an expansive, free science-based library of articles on our website, with printed copies available by request. VeDA's message reaches an international audience, with community members from around the world. Our website hosts millions of visitors each year, and our social media channels and virtual events reach hundreds of thousands of individuals representing the global vestibular community.
Finally, VeDA advocates for improvements in scientific research, educational initiatives, government policymaking, and other professional affiliations that advance VeDA's mission.
At the foundation of this strategic plan is the fundraising and development of resources that support VeDA's operations. Current priorities include adding new information technologies and expanding marketing capabilities. The financial implications of this plan are not presented here but are available upon request.