Thanks to our Caregiving Heros
November is all about gratitude, so it makes perfect sense that VeDA celebrates with our Caring for the Carer Campaign (C4C), a month-long tribute to recognize those individuals who provide caregiving support to a family member or loved one.
This is an opportunity to focus on and celebrate all those who support vestibular patients. 
Family care partners are the foundation of long-term care nationwide, and being a care partner comes with a sometimes high emotional, psychological, social, and financial price. Oftentimes, family and friends are diverse, representing almost every age, gender, race, and ethnicity, and are sometimes overlooked. Together, they share the challenges and rewards of supporting a loved one in need. However, the condition and care requirements of their loved ones, as well as their own circumstances, personal strengths, and resources, are all factors that make the caring experience different for each individual.  
The vestibular community is full of caring, dedicated family members, friends, loved ones, and healthcare professionals who support people living with debilitating vestibular dysfunction. VeDA understands how much care partners contribute to those with vestibular disorders, and we've created resources to help them.
Ways to get involved in C4C:
Practice self care
Express gratitude
Share some of our C4C memes below with your own expression of thanks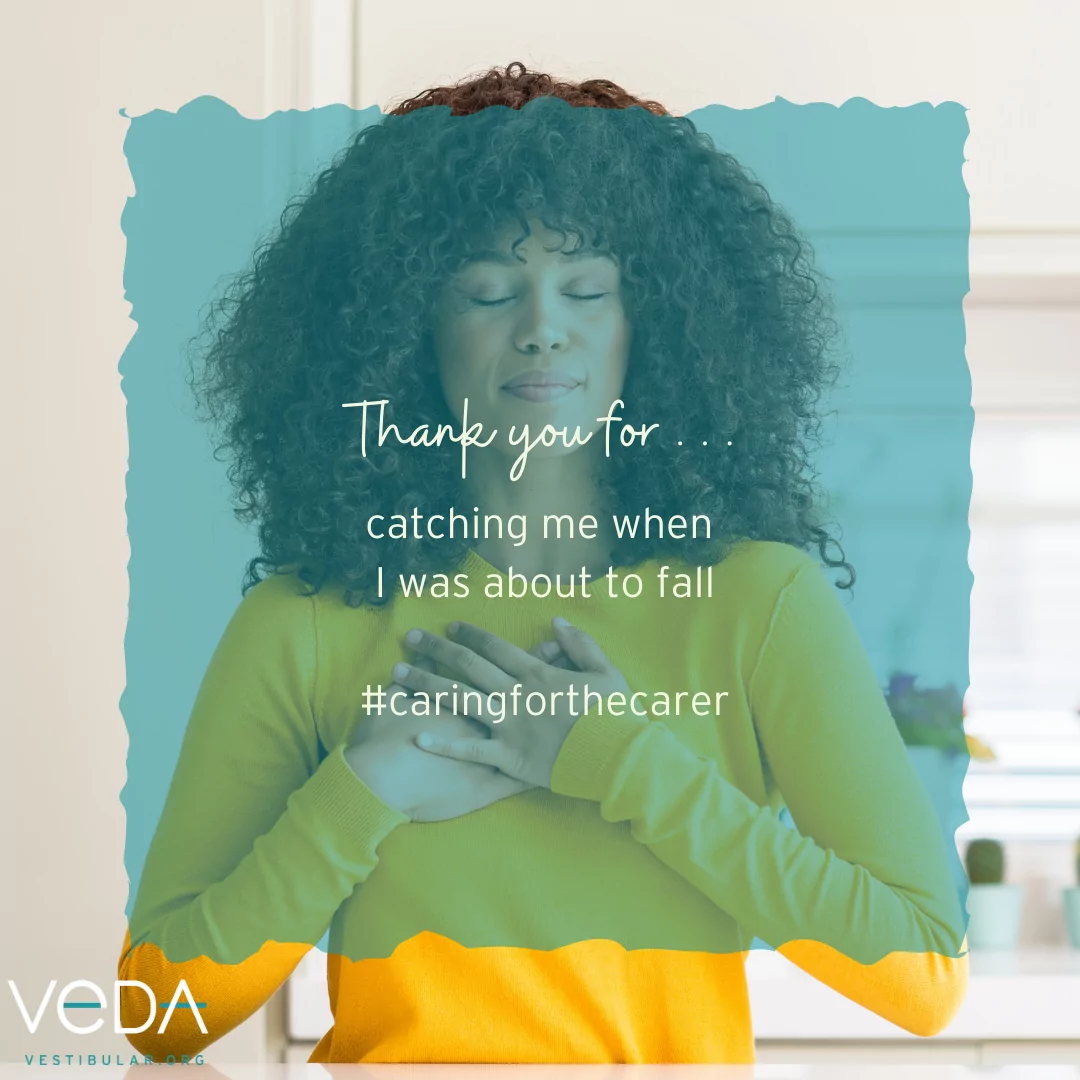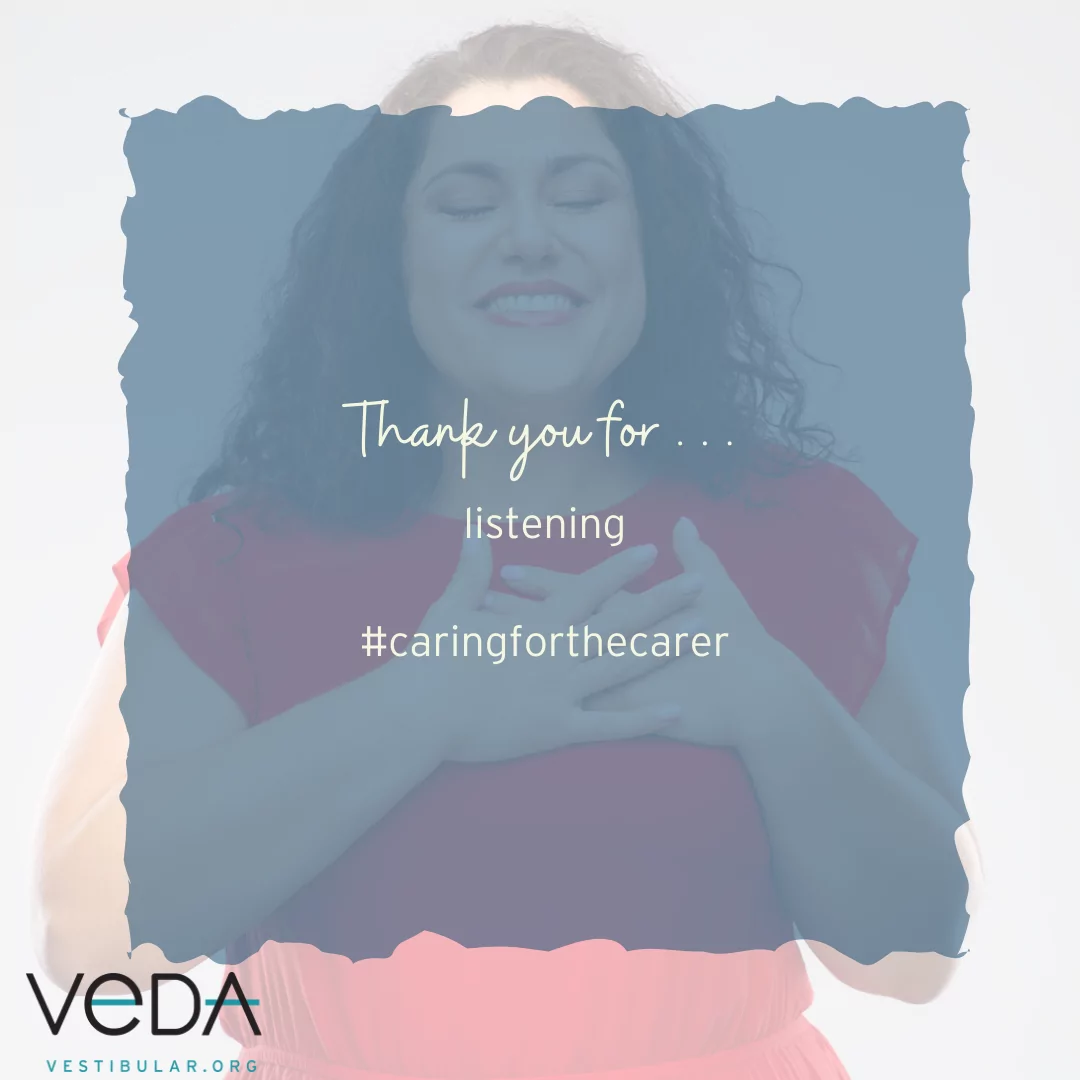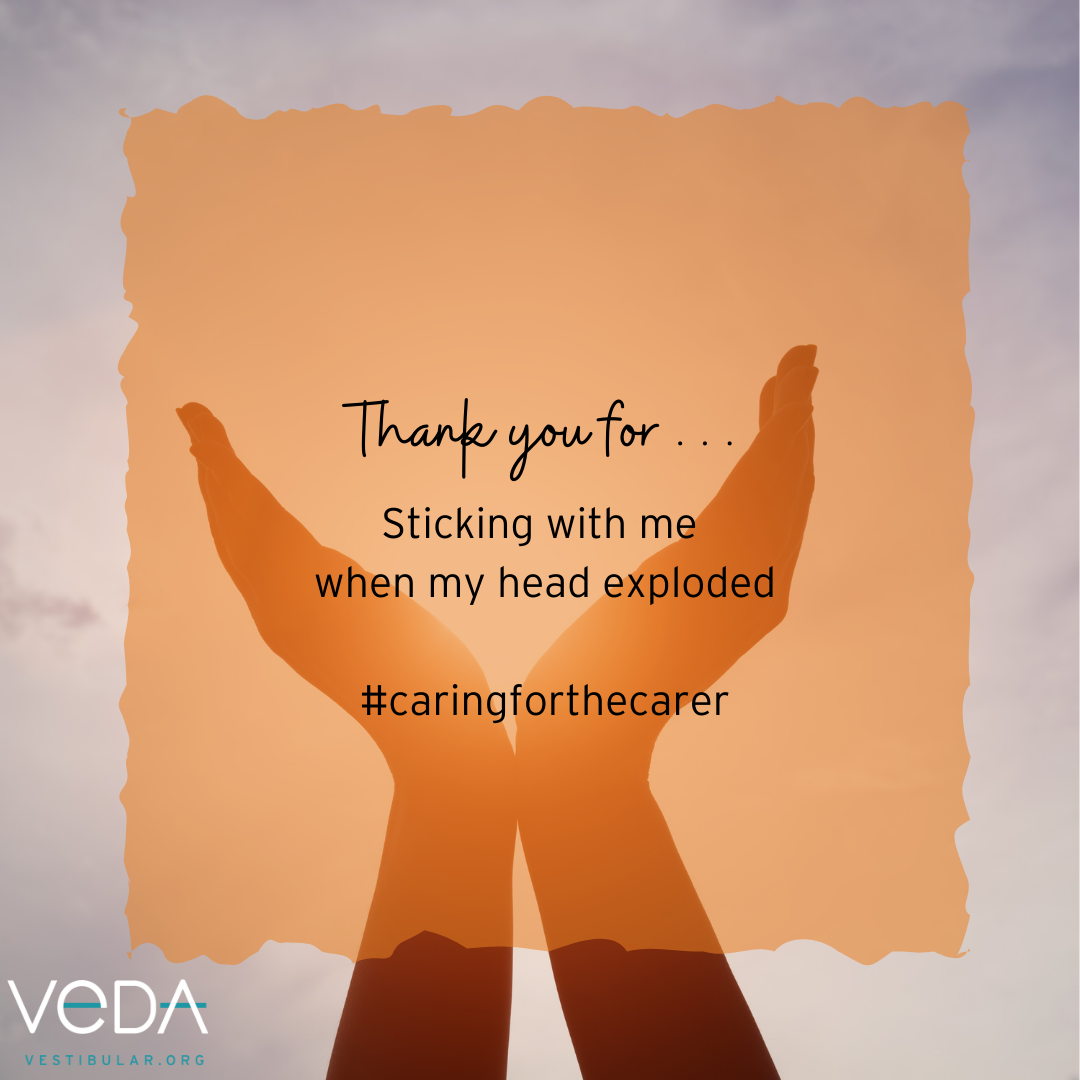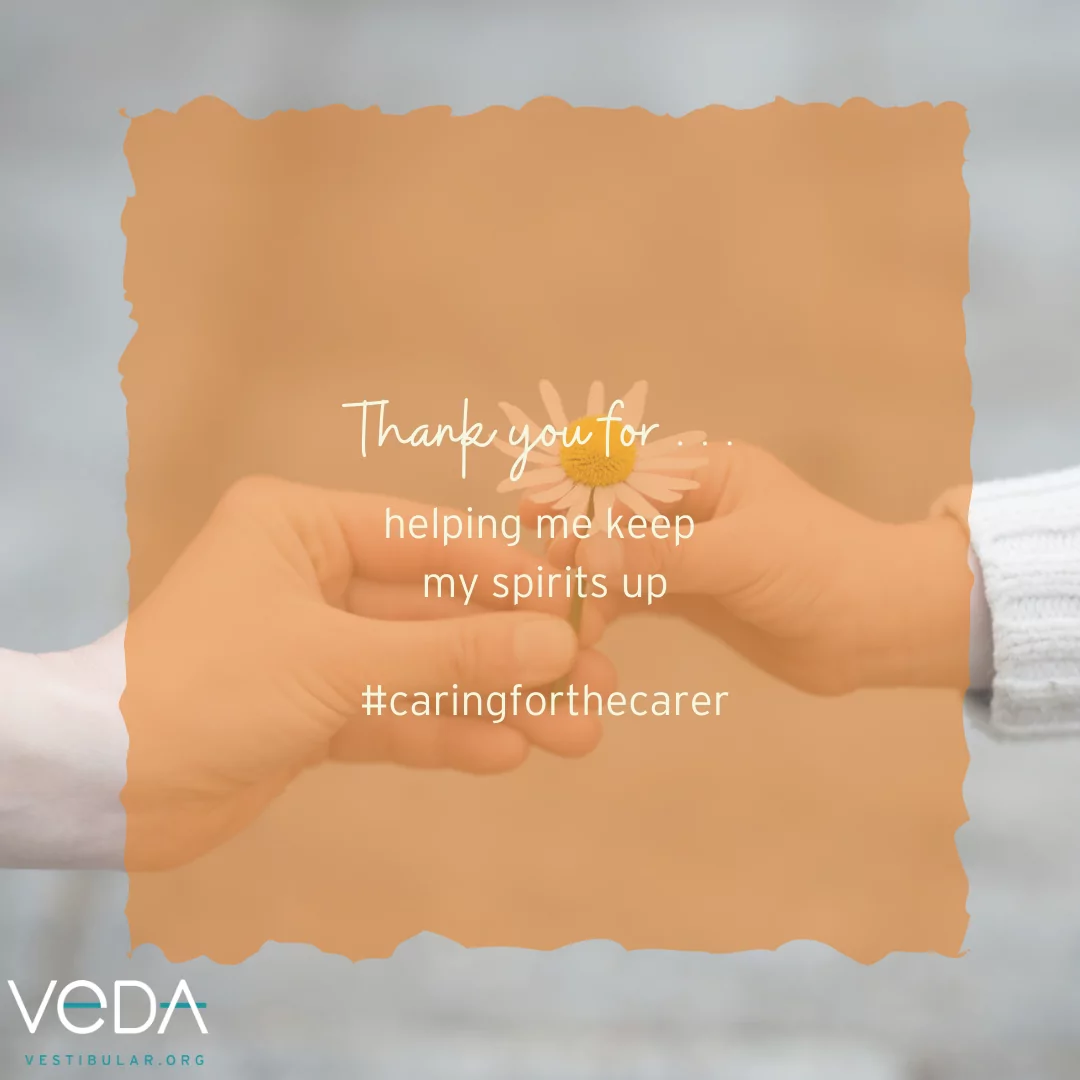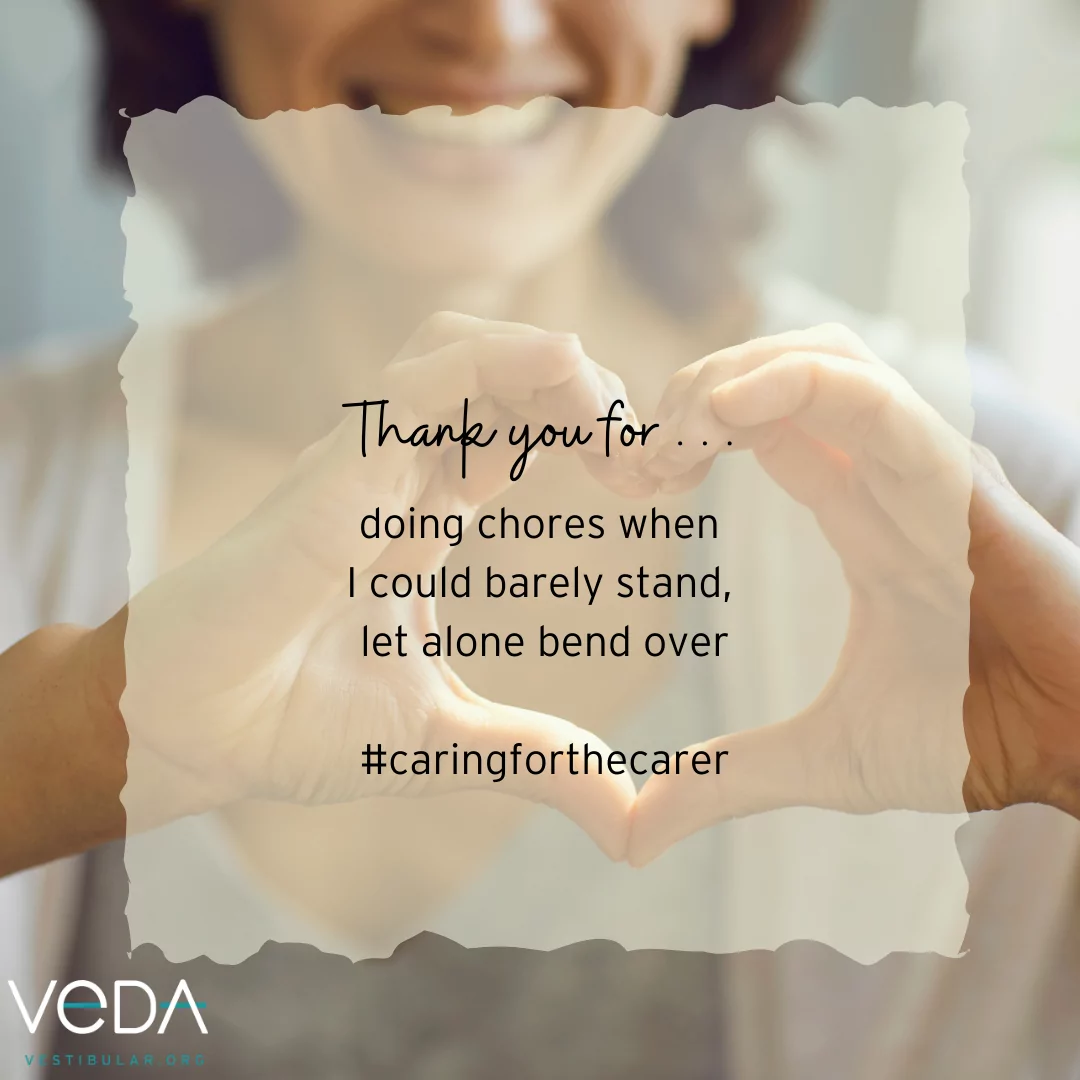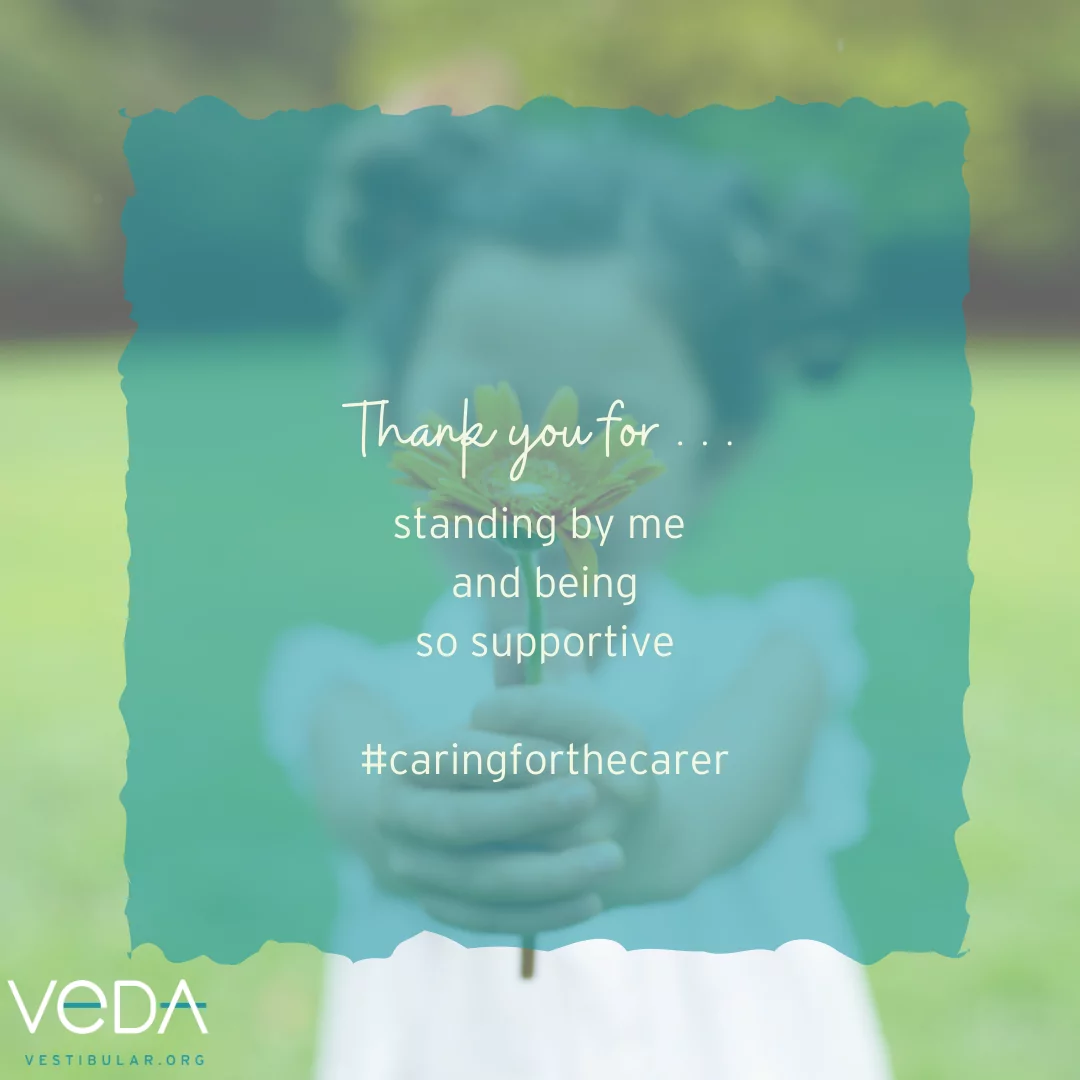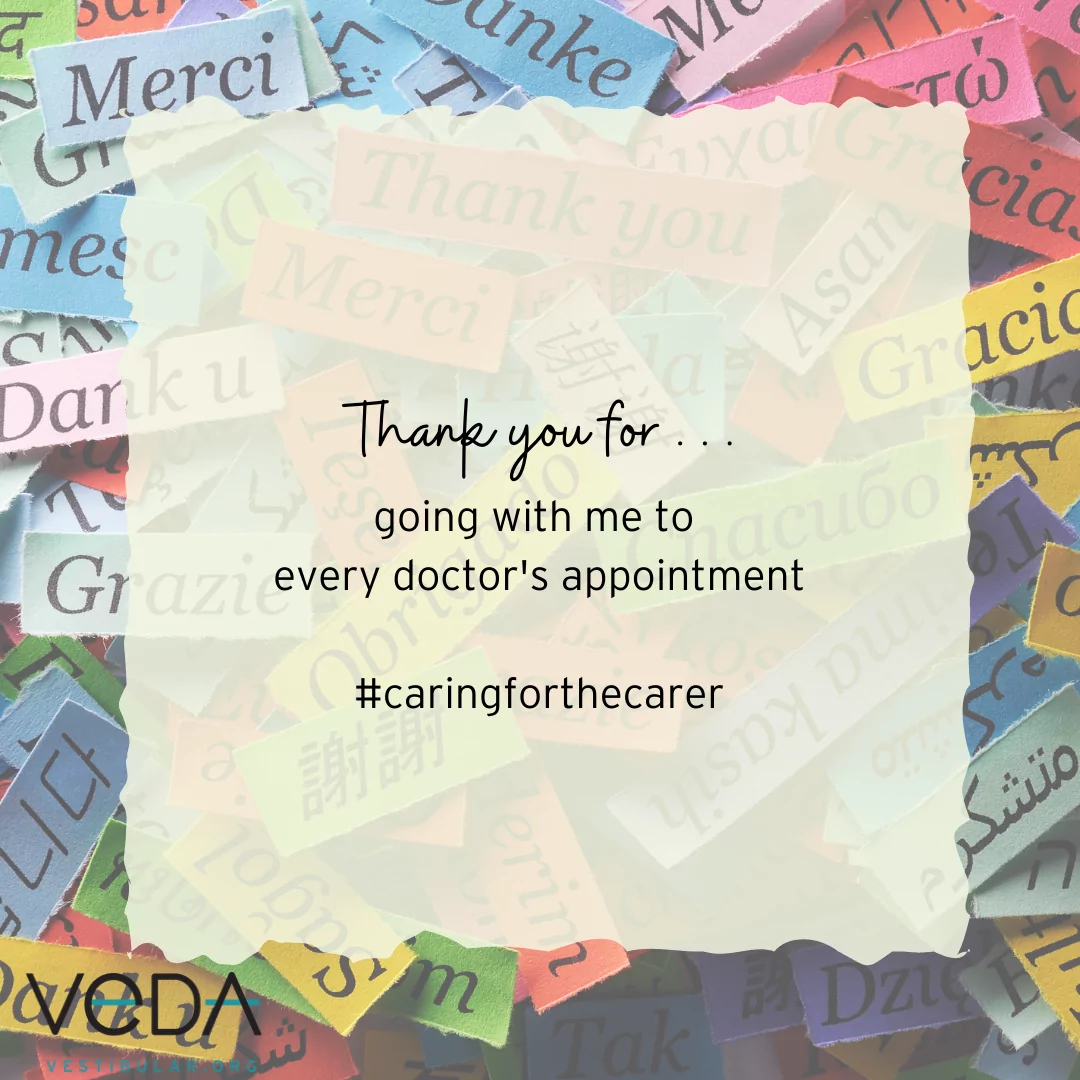 CARE PARTNER TIP
The best care partner tip we can offer is to take care of yourself so that you can be present to fully support your loved one. Engage in self-care without feeling guilty.  Ask yourself
Are you getting enough rest? 

Do you go out and do fun things just for yourself, even if your loved one can't participate? 

Are you eating right, exercising, and taking care of your own physical and mental health?

Do you have enough support?
VeDA has a Facebook support group called Vestibular Voices of Care dedicated to the specific challenges and rewards of vestibular care partners.  Join them at facebook.com/groups/vestibularcarer.
BALANCE HEROS
A huge part of C4C is our Balance Hero Program, which recognizes people who have gone above and beyond in the assistance of vestibular patients. During C4C you can shine a spotlight on your care partners and their stories.  Balance Heros may come from any role within the vestibular community, including but not limited to patients, care partners, family members, supportive friends, coworkers, or healthcare providers.  Nominate your hero today.
On Giving Tuesday, an international day of radical generosity, VeDA recognizes these Balance Heroes by sharing their stories.
Here are some of the stories of last year's heroes:
My physical therapist is a balance and vestibular specialist. I began seeing her a year ago for my bilateral vestibular disorder. Her enthusiasm and continual exploration to discover new methods to challenge me during a therapy session has led to a vast improvement in my day-to-day function, movement, and well-being. She creates a fun and positive atmosphere at therapy that is both motivating and encouraging. -Karen M.
I nominate my social worker for exemplary dedication to her clients. Her unwavering ability to navigate the transition of an entire social work department from inside a physician's office is uncanny. She investigates and explores all options before giving up. She's resourceful and listens deeply to the underlying issues. She's been an advocate for vestibular disturbance patients across the globe. She knows my diet means everything. -Cynthia T.
My hero is one of the few medical professionals who "gets it," who asks questions carefully, cleverly, to dig out what symptoms we have. He spent much of his off-duty time researching all he could about vestibular disorders. He is someone who understands what I'm going through! As a PCP, he concerns himself with his patients' physical, mental, emotional, and spiritual health at all times, and remains professionalism with each of these health needs. -Chet C.
I am nominating my hero because of her amazing willingness to support me through my chronic illness. The minute I was diagnosed she researched what she could do to help and still discusses suggestions every time we talk. She is my twin sister and has been with me through everything. I have been dealing with having a chronic illness at 19, going to school, work, and leading a club, and she has been with me every step of the way making sure I have the support I need. Last year there was a time I was feeling extremely low and trapped by my illness, so I called her very late one night, not expecting her to answer. Not only did she answer, she stayed on the phone with me until we had a plan for feeling better mentally. She then confessed to me that she always kept her phone ringer up all the way at night just in case I might call needing her. I don't know how I would be able to deal with my chronic illness without her. -Emma L.
My hero has seen me through my vestibular journey from the moment I had my accident in 2004. She took me in and looked after me when none of my family members could. She would attend all my appointments, both medical and legal. Words of hope and encouragement came from her at every stage and together we fought through every battle. She believed for the two of us that I will get out of bed again, which gave me the strength and courage never to give up hope. She extended her care and love to my children. She has become a true sister. We still carry on, but now we mostly laugh about the things I can't do any longer instead of being upset. -Etrily L.
Thank you to everyone who nominated their hero(es)—and to the heroes, thank you for your tireless support!