Raising Awareness In Your Local Community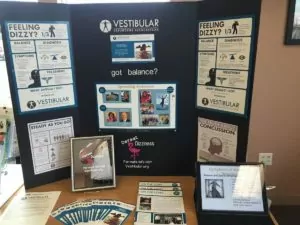 Is there a health fair or other local event where you have the opportunity to set up an information table? Sharing information about vestibular disorders and VeDA with the people in your neighborhood is an excellent grass-roots effort to raise awareness about vestibular disorders. VeDA has compiled some tools to help you:
Tips on making your display
We recommend getting a tri-fold display made of either foam core or corrugated cardboard, in a neutral color.
Avoid using things with a lot of small text on your display. These pieces are difficult to read from a distance and better-suited for use as hand-outs.
Be imaginative when putting your display together.
To Display
Infographics
Images and Quotes
To Hand Out
Other Ideas